Betpack »
Best Betting Sites in Slovakia
Best Betting Sites in Slovakia
Slovakia has a legal sports betting scene. Online betting sites in Slovakia have been legal since 2005, and you have quite a lot of bookmaker options to choose from. At BetPack, we help you find the best of those Slovakian betting sites. Read on to learn more about how we review and analyze Slovakian bookies and their sports markets, bonuses, and odds. We also tell you about the accepted payment methods and reveal fascinating facts about betting in the country. Let's start!

Ad Disclosure: Betpack is an affiliate website. We may earn comission if you register to a bookmaker via links on our platform. Learn more information and please gamble responsibly.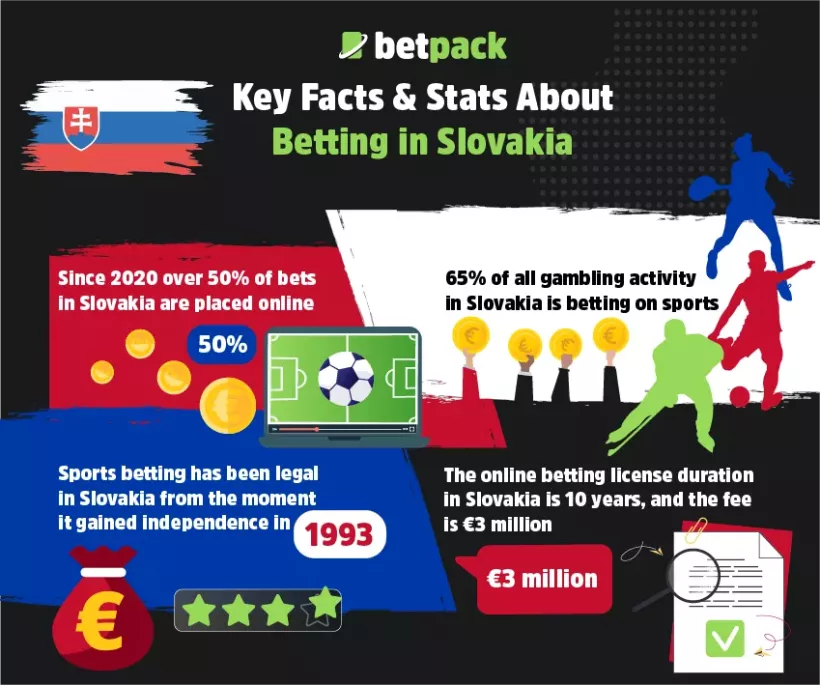 How to Pick the Best Slovakian Bookmaker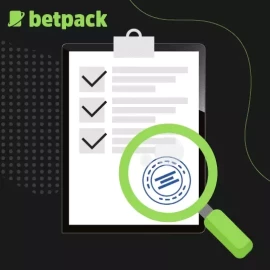 Step 1
Analyze Betting License
The most reliable betting sites in Slovakia are those that have a license from a renowned regulator. So, the first thing you should do is make sure your bookie has a sports betting license. Doing that will help you wager worry-free later on.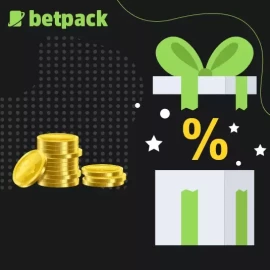 Step 2
Compare Sports Bonuses
Next, analyze the welcome bonus and other promos the bookie offers. An enticing welcome bonus will often double your money. Free bets come in handy, too. However, make sure that all bonuses come with reasonable terms and conditions.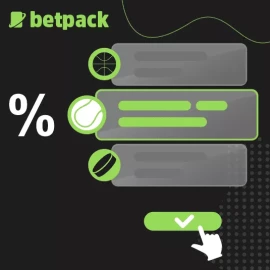 Step 3
Examine Odds
The best bookmakers in Slovakia have enticing odds and work with minimal margins. So, before joining a bookie, analyze its odds. Alternatively, read our sportsbook reviews. We compare odds for all betting sites in Slovakia and help you find the most generous one.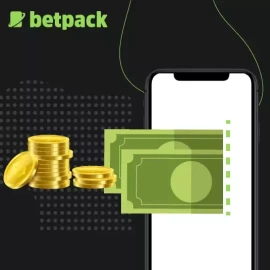 Step 4
Check Payment Methods
Payment methods are more important than you think. It is essential you find a bookie with a wide range of deposit and withdrawal options. Also, make sure the deposit and withdrawal limits work for you. Lastly, check if the sportsbook has transaction fees.
Free Bets & Betting Offers in Slovakia
| Bookmaker | Offer |
| --- | --- |
| PlanetaXbet | 100% up to €500 |
| GreatWin | 100% up to €100 |
| Jeetcity | 50% up to €400 |
| Freshbet | 100% up to £500 |
Bookmaker
PlanetaXbet
Offer
100% up to €500
Bookmaker
GreatWin
Offer
100% up to €100
Bookmaker
Jeetcity
Offer
50% up to €400
Bookmaker
Freshbet
Offer
100% up to £500
The best online betting sites in Slovakia have some of the most enticing bonuses and promos in the industry. Fortunately for you, in BetPack, you have a companion to guide you to the most lucrative promos which are also easy to claim. Keep reading to find out more about the most popular bonuses in Slovakia and how you can get them.
First Deposit Bonuses
Sportsbooks in Slovakia want you to become their customer and give you some pretty lucrative welcome bonuses to make that happen. To trigger these sign-up offers, you need to be a new player and make a qualifying deposit using accepted payment methods. As soon as you do that, the bookie will match your deposit or give you some free bets.
Let's explain how these first deposit bonuses work. Let's say you opened a new betting account and are now eligible for a 100% welcome bonus up to €100. However, you have to bet on live betting football events only and your total odds must be 1.50 or higher. So, how can you claim this 100% up to €100 bonus?
Well, first make sure you make a qualifying deposit using an accepted payment method. Credit/debit cards are always the best option in this regard. If you deposit €80, the bookie will give you €80 in bonus credits. However, if you deposit €150, the sportsbook will only give you €100 in bonus money, as this is a 100% up to €100 bonus.
Next, make sure you bet on football and that you include selections from the bookie's live betting section. Also, make sure to meet the minimum odds requirements. As soon as you do that, and your first qualifying bet is settled, the bookie will give you the welcome bonus you activated. You can now use that money to bet on even more pre-match and live betting events. Pretty cool, right?
Free Bets
Free bets are some of the most popular promos with bettors at Slovakian betting sites. So, bookmakers in the country do everything they can to come up with the best free bets to entice their players.
And they include them in all of their promos. You can bag your free bet when you open a new online gambling account or when you top it up with some fresh funds. You can also benefit from free wagers when you reach a higher VIP program level or unlock some loyalty scheme achievement. Some Slovak bookies even give you free bets when you download their mobile apps or when you refer a friend to join the sportsbook. Free bets are truly everywhere in Slovakia.
So, what is a free bet? With free bets, you bet on sports events using the free bet credits the bookmaker credited to your account. You can get these credits after making a qualifying bet. You can also get the free bet first and then meet some predetermined bonus terms and conditions.
For instance, a bookie can say it will give you a €20 free bet after you place a qualifying €20 bet yourself. If that's the case, you place the qualifying bet first and get the free wager second.
Alternatively, the Slovak bookmaker can first credit the free bet to your account and tell you to meet some wagering requirements before you can withdraw your winnings.
Whichever type of free bet you activate, you can be sure of one thing - the extra bet credits the bookie gives you will come in handy.
How We Compare and Rank Betting Sites in Slovakia
Finding the best betting site in Slovakia is a complicated process. It involves a lot of variables and complex analysis. Fortunately, you got us to help you. We compare and analyze betting sites in Slovakia so that you don't have to. These are the factors we focus on when comparing and ranking Slovakian betting sites.
Obtaining an online sports betting license in Slovakia costs €3 million. If a sportsbook tricks even one bettor, it risks losing that license instantly. That's why we always check licenses first. There's no stronger guarantee of a safe betting experience than a license from a reputable regulator.
Bookmakers in Slovakia have lucrative welcome offers for new bettors. And we find the most rewarding ones. At BetPack, bookies must have welcome offers to even be considered. If they want to be ranked among the top betting sites in Slovakia, those offers must be top-notch.
We spend serious time and money evaluating free bets and promos. Slovak bookmakers have some of the best betting bonuses for existing customers in the industry. However, we check each promo meticulously to verify that and cover everything from wagering to odds requirements.
At BetPack, if a bookie has fewer than 20 sports, we discard it. Similarly, if it has only a dozen markets for a given match, we immediately look elsewhere. Online betting is all about sports and markets, and we don't make any compromises in this regard.
We have some of the best betting odds experts in the industry. They analyze and compare the odds each bookie offers and tell you if a sportsbook works with decent or not-so-decent odds. We favour Slovak bookmakers that work with the lowest odds margins possible.
The only way to get great value for money is to be able to choose from a wide range of payment methods. Fortunately, most Slovakian betting sites offer a decent selection of banking options with reasonable limits. Of course, we check and double-check that to be sure.
We want the bookies we list to have all the features you need. Bookmakers in Slovakia that have live streaming and offer bet builders rank highly at BetPack. If they also boast social betting options and put a betting agent at your disposal that's even better.
Top Slovakian Betting Sites by Category
| Category | Bookmaker |
| --- | --- |
| Best Welcome Bonus | PlanetaXbet |
| Best Odds | FreshBet |
| Best Betting Markets | Jeetcity |
| Best Features | GreatWin |
| Best Design & Usability | Sportsbook.io |
Category
Best Welcome Bonus
Bookmaker
PlanetaXbet
Category
Best Odds
Bookmaker
FreshBet
Category
Best Betting Markets
Bookmaker
Jeetcity
Category
Best Features
Bookmaker
GreatWin
Category
Best Design & Usability
Bookmaker
Sportsbook.io
Popular Payment Methods for Slovakian Betting Sites
The choice of payment methods is crucial to the quality of your online betting experience at Slovakian sportsbooks. A bookmaker can have top-notch pre-match and live betting markets, but if it works with outdated payment methods, you will rue the day you joined it.
Fortunately, we know this, and feature sportsbooks that work with some of the best online payment methods for betting in Slovakia. Let's find out more about each payment system and the benefits and drawbacks it comes with.
Credit/Debit Cards
If you want to bet with one of the most popular payment methods with bettors in Slovakia, look no further than the banking cards you have in your wallet. Credit/debit cards are the first choice for Slovakian punters, as they are super straightforward to use and come with tons of perks.
The biggest advantage of credit/debit cards is that they allow you to make transactions that go both ways. You can both deposit and withdraw with banking cards, thus making online betting payments a breeze.
Another perk of credit/debit cards is that they are guaranteed to trigger any betting bonus you have in mind. Unlike other payment options in Slovakia, banking cards are not excluded from sports bonuses.
On the downside, credit/debit cards are not your best bet if you are looking for high deposit limits. High-stakes bettors in Slovakia will feel restricted by the deposit limits that are sometimes as low as €4,000.
Similarly, even though a credit/debit card will always rank as one of the best online payment methods due to the simplicity of depositing and withdrawing funds, you still need to reveal a lot of sensitive information while doing that.
So, bettors who don't want to disclose these pieces of information may want to go with a different payment method, such as an e-wallet or prepaid card.
E-Wallets
E-wallets such as Neteller, Skrill, and PayPal are also available at the best online bookmakers in Slovakia. The great thing about e-wallets is the speed they give you when betting online. It goes without saying that all e-wallet deposits are instant. However, you will be surprised to learn that most payouts will be similarly fast. E-wallet withdrawals are lightning-fast and are almost always processed within 24 hours. That goes double when you join some of the top bookmakers we feature.
Another advantage of using digital wallets is that you can deposit and withdraw just by entering your email and revealing no other information. If you want to be absolutely sure that your financial information stays private, e-wallets are probably the best option for you.
On the other hand, one of the most problematic aspects of e-wallet deposits is that they are excluded from welcome bonuses. That is especially true about Neteller and Skrill.
For instance, you can join the best online betting providers and meet the minimum deposit conditions and all other odds and selection requirements. However, if you made that first deposit using Neteller or Skrill, you probably won't get access to the welcome bonus.
Bank Transfers
Almost all of the top bookmakers we work with support bank transfers. The reason is simple. Bank transfers are dependable and always reach their destination. Plus, they also come with other perks.
The most evident one is the high deposit and withdrawal limits they facilitate. If you are a big-money bettor in Slovakia, you probably want to be able to cash out your betting windfall with no restrictions. Bank transfers allow you to do that.
Maximum withdrawal limits vary from one bookmaker to another. One thing is constant, though. Bank transfers let you cash out the most money in one go. How much is that? Well, we have seen bookies in Slovakia that allow bettors to withdraw as much as €50,000 in a single transaction. Compared to other banking options, that's massive.
However, bank transfers also facilitate some of the slowest payouts in the country. One of the drawbacks of betting with wire transfer payments is that you might have to wait for your winnings for as long as a full week.
Prepaid Cards
Punters in Slovakia have access to prepaid cards, but not many have them as their preferred payment method. There are two reasons for that. First, you can only deposit using prepaid cards, as withdrawals are not an option with prepaid cards. For payouts, you will have to get an alternative cash-out option.
Another drawback of betting with prepaid cards is that you can only deposit small amounts of money. Prepaid card denominations and betting site limits will usually restrict your deposits to about €1,000 at most Slovakian betting sites. That's far fromal for bettors on a budget, let alone high-stakes punters.
On the plus side of betting with prepaid cards, you reveal zero personal and financial information. The only thing you need to enter is the number of the prepaid card. If you use Paysafecard, for instance, that is the 16-digit PIN you get when you purchase the card.
Cryptocurrencies
Bitcoin, Ethereum, Litecoin and other cryptocurrencies are also popular in Slovakia. Crypto payments are great because they facilitate anonymous deposits and withdrawals and are safe and secure to boot.
They are also great if you want to speed up the gambling experience and get excellent deposit and withdrawal processing times. Most crypto deposits are instant, and withdrawals are usually processed within the same day.
On the downside, even though it seems like crypto payments have been around for ages, there are bookmakers in Slovakia that don't work with them. So, if you are a crypto betting enthusiast, you might want to first check if the online gambling site actually accepts BTC, ETH, and other crypto payments before opening a betting account with it.
Best Slovakian Betting Sites for Sports
| Sport | Bookmaker |
| --- | --- |
| Best for Football | PlanetaXbet |
| Best for Basketball | LeoVegas |
| Best for Ice Hockey | Sportsbook.io |
| Best for Tennis | FreshBet |
| Best Overall for Sports | GreatWin |
Sport
Best for Football
Bookmaker
PlanetaXbet
Sport
Best for Basketball
Bookmaker
LeoVegas
Sport
Best for Ice Hockey
Bookmaker
Sportsbook.io
Sport
Best for Tennis
Bookmaker
FreshBet
Sport
Best Overall for Sports
Bookmaker
GreatWin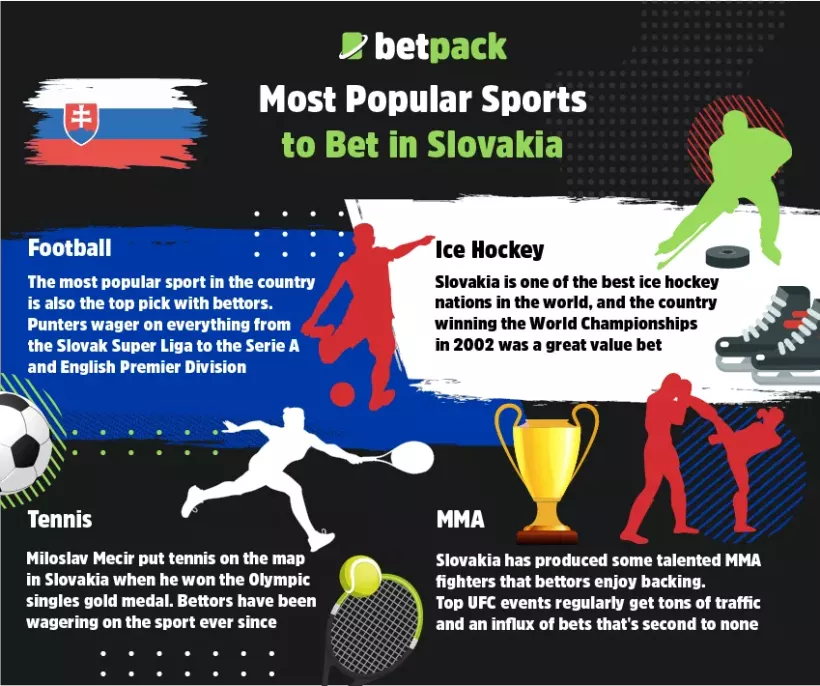 Most Trusted Betting Sites in Slovakia by Betpack
| Rank | Bookmaker |
| --- | --- |
| #1 | FreshBet |
| #2 | LeoVegas |
| #3 | Slotimo |
| #4 | Betsson |
| #5 | LV Bet |
Rank
#1
Bookmaker
FreshBet
Rank
#2
Bookmaker
LeoVegas
Rank
#3
Bookmaker
Slotimo
Rank
#4
Bookmaker
Betsson
The key to a worry-free betting experience in Slovakia is to go with the most trusted betting sites in the country. This is easier said than done, though. All bookmakers in Slovakia will tell you they are safe betting options, and, of course, that's simply not possible. So, how can you find the most reliable sportsbooks in Slovakia?
The easiest way to locate a trusted betting site in Slovakia is to go with the bookmakers we give you. These Slovakian sportsbooks have passed all our tests and have scored double-digits in the reliability category. They all boast licenses from reputable wagering regulators and utilize unparalleled security and encryption protocols. If you want to focus on your bets and not worry about the security of your transactions and personal info, our most trusted betting sites in Slovakia are the way to go.
Conclusion
If you are looking for the best betting sites in Slovakia, you came to the right place. Online betting is legal in Slovakia. However, not all Slovak bookmakers are worthy of your time and money. The best way to experience sports betting in all its glory is to go with the top Slovakian bookmakers and settle for nothing less. And that's where BetPack comes in.
At BetPack, we analyze online betting sites in Slovakia and separate the wheat from the chaff. We put each bookmaker through a battery of tests, and the best-scoring bookies are featured on our site. Moreover, you get to read their reviews and join them instantly if you like what you see. Inferior Slovak bookies, on the other hand, are headed for the exit door, never to be seen again.
So, now that you know that the best betting sites in Slovakia are right here, why not check them out? These industry leaders have the best odds, sports markets, and bonuses and now is the best time to try them first-hand.
Frequently Asked Questions
What Betting Apps Work in Slovakia?
Sports betting apps licensed by the Office for the Regulation of Gambling in Slovakia will definitely work in Slovakia. Betting apps licensed by reputable international regulators should work too.
What are the Most Popular Sports to Bet on in Slovakia?
Football is the most popular sport in Slovakia. Other popular sports include ice hockey, tennis, cycling, and boxing.
How to Claim a Free Bet from a Slovakian Bookmaker?
First, join the bookmaker that offers the free bet promo. As soon as your account is active, trigger the promo. You will probably need to meet some bonus requirements for your wager to be considered a qualifying one too (minimum deposit, min odds, etc.). Once your qualifying bet is settled, you get your free bet.
Do Slovakian Bookmakers Have Good Odds?
They most certainly do. Slovakian betting sites work with reasonable odds margins, and the top Slovak bookies we feature have the smallest house edges and best odds out there.
Is Sports Betting Legal in Slovakia?
Yes, it is. Sports betting has been legal in Slovakia since its independence in 1993. Online betting has been legal since 2015 too.