Esports Betting Sites
eSports Betting is gaining popularity nowadays as online sportsbooks seek to reach more bettors with more exciting betting options. If you are not a fan of football, basketball, hockey or other sports but you love video games, now you have an alternative. All you have to do is get familiar with popular eSports like League of Legends, Call of Duty and CS: GO, and Dota 2 to bet online.
Ad Disclosure: Betpack is an affiliate website. We may earn commission if you register to a bookmaker via links on our platform. Learn more information and please gamble responsibly.
Best eSports Bookmakers 2023
New Bonus

Weekly offer
20 x €50 Parlay Free Bets
Play Now
Everygame review
United States
Accepted
Licenses:

Pros
The sign-up offer gives you bonus funds on your first three deposits.
Wide range of bonuses for existing customers.
Many pre-match betting markets to choose from.
Cons
You can make only one withdrawal request in seven days.
No mobile betting app.
No live streaming.
Odds Margin:
Payment Methods










Extra Features
Tournaments
Casino
VIP Programme
---
New Bonus

Welcome offer
100% promo up to 25 mBTC
Play Now
NitroBetting review
United States
Accepted
Licenses:
Pros
Player-friendly deposit and withdrawal limits
Anonymous wagering and no need for KYC
Competitive odds for most markets
Cons
No live streaming feature
No mobile app
Only a few bonuses
Odds Margin: 95%
Payment Methods


Extra Features
Bonuses
Casino
VIP Programme
---

Welcome offer
100% up to €100
Play Now
Slots N Bets review
United States
Accepted
Licenses:

Pros
Good welcome offer
Highly reliable and safe sportsbook
Multiple currencies are supported
Cons
No live chat option
No live streaming
No mobile app
Odds Margin: 92%
Payment Methods










Betting Software: Novasoft
Extra Features
Bonuses
Casino
VIP Programme
---
1
eSports Bookmaker Background Check
Thorough background checks allow us to select a trustworthy eSports bookmaker. The key factors we consider include a gaming license, good player ratings, numerous eSports markets and reliable payment methods. We also ensure that the sportsbook offers excellent customer service.
2
Deposit and Claim a Bonus
The second step involves registering with the selected eSports betting site and make a qualifying deposit. Once we try out the available banking options, we claim the sportsbook's welcome bonus. This allows us to know how easy it is to register, deposit and get the bookmaker's bonuses.
3
Bet on eSports for Real Money
To determine whether an eSports betting site is good or not, we place bets on the available eSports games and markets. The process involves browsing through the betting site, testing the various functions and placing the different bets on eSports.
4
Rate the eSports Betting Site
The final step is to rate eSports betting sites by giving them a score. Our experts provide ratings to provide you with a general idea of how good the selected sportsbook might be compared to others. But you can rest assured that all of the eSports betting sites recommended here are worth joining.
Facts About eSports Betting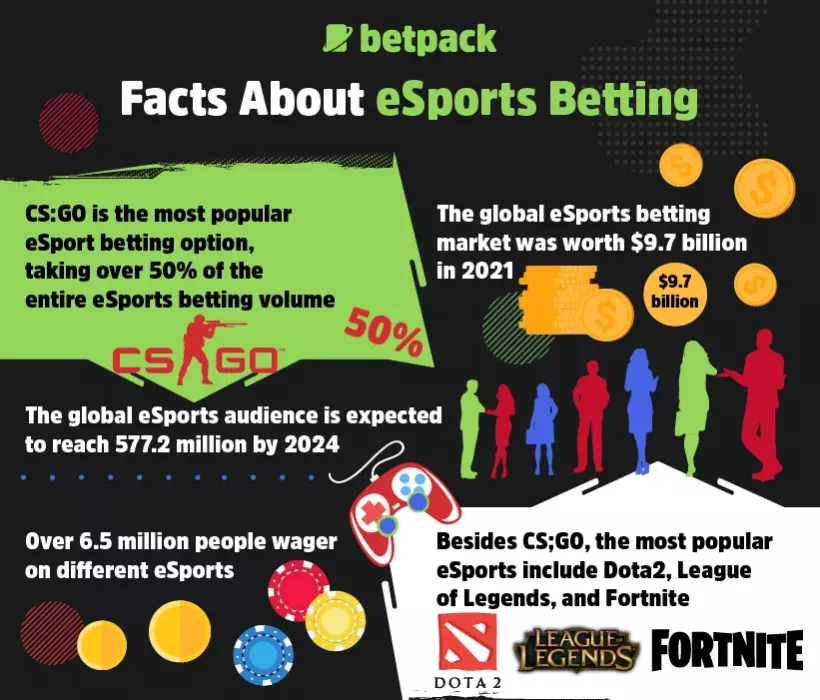 Popular Types of eSports You Can Wager on Today
We've mentioned eSports many times so far, but what are they? Electronic sports or eSports are terms used when referring to competitive video gaming. Simply put, eSports are video games played by players or teams against each other to complete missions hoping to win in the end. The only way to play video games against real players was to sit next to them in the past. But the internet has made it possible to play against distant real-life players online.
If you are an eSports fan, you can now bet on your favourite eSports players or teams at online bookmakers and win real money. But you first need to familiarise yourself with eSports games, tournaments, leagues, players and teams. Once you find the perfect choice, you need to sign up for an account with one of our recommended eSports betting sites.
So, which eSports games can you wager on? Well, eSports bettors have plenty of options when it comes to eSports betting. Some of the best eSports games to bet on include FIFA Football, Overwatch, League of Legends (LOL), Call of Duty, Counter-Strike Global Offensive (CS: GO) and StarCraft II. Let's look at four of these games.
Counter-Strike: Global Offensive (CS: GO)
First introduced in 2000, CS: GO is one of the most-played first-person shooter video games. In this game, two teams compete against each other, playing as either a terrorist group or a counter-terrorist group. The first group tries to set up a bomb or capture and hold hostages. And the work of the counter-terrorists is to prevent them from planting the bomb or rescue the hostages. The round ends when one of the team swipes out the other team or completes their given mission.
CS: GO is a pretty exciting game to watch, play or bet on. For those looking to bet on it to study the teams and individual players, you are wagering on or against. Once you find a good team, you can place different bets, as we will learn later in this article.
Dota 2 (Defense of the Ancients 2)
Dota 2 is a multiplayer online battle where two five-player teams play as powerful heroes to abolish each other's heavily protected structures. The ultimate goal of playing the game is to destroy the enemy's main base, known as an Ancient. There are also other ways to accumulate points even though destroying the Ancient is the main objective.
Dota 2 has always been a source of attraction for many players around the world. Thus, you are most likely to find it at most eSports betting sites, including those we've listed here. You need to figure out which players have mastered which heroes for you to bet on Dota 2 successfully.
League of Legends (LOL)
League of Legends is another popular game in the eSports gaming world. Just like Dota 2, LOL is a multiplayer online battle arena game. When playing LOL, the main objective is to take down the opponent's main building, the Nexus. The game involves two teams of five players trying to destroy each other's base. The first team to destroy the other team's structure wins the game.
If LOL is the type of game you wish to bet on, you are lucky because we have listed eSports bookmakers that allow betting on the game. You could bet on the winning team or choose other options depending on the selected eSports betting site.
Call of Duty
Call of Duty is also one of the best first-person shooter games that eSports fans can bet on right now. During gameplay, gamers compete against each other, trying to kill their opponents. So, players do everything they can to make sure they stay alive till the end. Again, you need to learn more about the competing teams and players before you start betting on Call of Duty.
Many eSports betting sites are now offering you a chance to place different types on Call of Duty. Although there are several ways to bet on the game, betting on the winner has always been the most popular choice for many players. But you can choose more lucrative bets if you are conversant with the team you've chosen to support.
Major eSports Events, Tournaments & Leagues
Betting on specific eSports teams and players can be fun and rewarding at the same time. But it's equally important to keep an eye on significant eSports tournaments and leagues. These events are pretty intense and a great opportunity to bet on contests with very attractive eSports odds. The following are some of the most popular tournaments and leagues in the eSports gaming industry.
The International – This is one of the biggest annual eSports tournaments for professional video gamers worldwide. The tournament features the best Dota 2 gamers and has the largest prize pool for a single tournament in eSports betting.
Intel Extreme Masters – The biggest CS: GO tournament where the prize pool is worth more than $2 million. It's a series of international eSports contests that take place around the world. Intel sponsors the events, and the tournaments host CS: GO and StarCraft II.
The League of Legends World Championship is a professional eSports championship held by Riot Games annually. The participating teams compete for a multi-million-dollar prize and the Summoner's Cup.
Call of Duty Championship – This is an annual Call of Duty tournament following the culmination of each competitive season to determine the World Champion. To participate in the Championship, teams must qualify during the various seasons.
ESL Pro League – The ESL Pro League is a premier CS: GO professional eSports league in Europe, Asia, the Americas and Oceania. ESL also features other leagues such as the Halo League and Tom Clancy's Rainbow Six Siege league.
Types of eSports Bets
The types of bet you can place when wagering on eSports are quite similar to those on regular sports. Here are some popular bets for eSports bettors:
Overall Winner Bet – This is the most common type of bet in sports and eSports betting. The goal here is to bet on the overall winner of a game or tournament. Some popular winner bets include moneyline bets and point spreads.
Over/Under Bets – With this type, you could wager on statistics in the game. For example, you can predict things like the total number of kills to be less than or more than a specified number.
Future Bets – As the name implies, futures bets are wagers placed on eSports events that will take place in the future. For instance, you could place eSports wagers on the winner of an upcoming tournament several days or even weeks before it takes place.
Live Bets – Live betting allows bettors to wager on eSports events as they happen. Bettors must be attentive to make quick decisions based on what is happening.
Proposition Bets – Prop bets involve betting on what you think will happen during the game. For example, you could bet on the first team to destroy an inhibitor.
How to Bet on eSports
If you came prepared to try some eSports betting options, the time is now. You can get started once you know how eSports work and identify your favourite market. The following are the major steps you should follow to bet on eSports.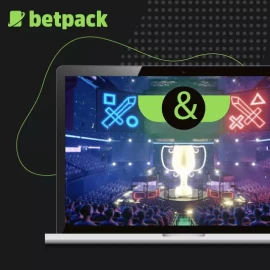 Step 1
Choose a Reliable eSports Betting Site
Search no more because we have already listed some of the best eSports betting sites on this page. Our experts reviewed tons of sportsbooks that offer eSports betting and recommended top eSports betting sites with the best markets and thrilling betting bonuses.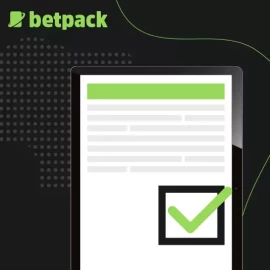 Step 2
Check the Betting Site Terms and Conditions
Before you decide to join any eSports betting site, we advise you to get acquainted with the general terms and conditions. If you are happy with the specified conditions, then you can start registering.
Step 3
Register and Deposit Some Money
Go to the registration page and sign up for your online betting account. Once you enter the necessary details and get verified, go to the 'Cashier' area and choose a payment method. Enter the amount you want to deposit, keeping the min deposit requirement in mind.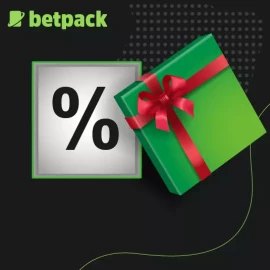 Step 4
Claim a Bonus and Bet
To get started with a bigger bankroll, claim the sportsbook sports betting welcome bonus and other promotions. Next, visit the eSports page and choose the game or market you want to bet on. Top eSports betting sites will have lots of games and markets to choose from. Have fun!
Pros & Cons of eSports Betting
eSports is the betting market of choice for many gamers for various reasons. When you decide to be on eSports, you will benefit in different ways. But we must also acknowledge that eSports betting has its downsides. We've listed the benefits and drawbacks of this form of betting below.
Pros
eSports players stand a chance to win real money effortlessly
There are no off-seasons in eSports betting, unlike when betting on regular sports
Gamers can choose from a wide range of eSports markets nowadays
eSports betting is fun and entertaining since bettors can be on live contests
Cons
eSports betting is still not as popular as regular sports betting
Player can't get far without proper knowledge of the various types of eSports
Best eSports Bookmakers by Category
| Feature | Name |
| --- | --- |
| Best eSports Bookmaker | 10bet |
| Best for Live Play | Betsson |
| Best eSports Odds | Xplaybet |
| Best Diversity | LVBet |
| Best Mobile Bookmaker | Casino360 |
| Best Bonuses | Vbet |
Feature
Best eSports Bookmaker
Name
10bet
Feature
Best for Live Play
Name
Betsson
Feature
Best eSports Odds
Name
Xplaybet
Feature
Best Diversity
Name
LVBet
Feature
Best Mobile Bookmaker
Name
Casino360
Feature
Best Bonuses
Name
Vbet
Top 10 eSports Bookmakers
| Rank | Bookmaker | Bonus | Crypto |
| --- | --- | --- | --- |
| 1. | 10bet | 50% up to €50 | No |
| 2. | Sportaza | 100% up to €100 | Yes |
| 3. | Xplaybet | 100% up to €100 | No |
| 4. | Mozzart | 100% up to €100 | No |
| 5. | Betsson | 100% up to €100 | No |
| 6. | Vbet | €100 Free Bet | No |
| 7. | Betwinner | 100% up to €130 | Yes |
| 8. | Casino360 | 100% up to 75€ | Yes |
| 9. | Sportsbet | 10% Cashback | Yes |
| 10. | Funbet | 50% up to 50€ | No |
Rank
1.
Bookmaker
10bet
Bonus
50% up to €50
Crypto
No
Rank
2.
Bookmaker
Sportaza
Bonus
100% up to €100
Crypto
Yes
Rank
3.
Bookmaker
Xplaybet
Bonus
100% up to €100
Crypto
No
Rank
4.
Bookmaker
Mozzart
Bonus
100% up to €100
Crypto
No
Rank
5.
Bookmaker
Betsson
Bonus
100% up to €100
Crypto
No
Rank
6.
Bookmaker
Vbet
Bonus
€100 Free Bet
Crypto
No
Rank
7.
Bookmaker
Betwinner
Bonus
100% up to €130
Crypto
Yes
Rank
8.
Bookmaker
Casino360
Bonus
100% up to 75€
Crypto
Yes
Rank
9.
Bookmaker
Sportsbet
Bonus
10% Cashback
Crypto
Yes
Rank
10.
Bookmaker
Funbet
Bonus
50% up to 50€
Crypto
No
eSports Betting Bonuses and Promotions
Most eSports betting sites double as online sports betting sites where customers can wager various sports using a bonus. The first offer for new customers is commonly known as a welcome bonus or signup offer, which is often the most generous bonus. Welcome offers could take the form of deposit bonuses or no deposit bonuses.
Chances are your welcome bonus will be a first deposit bonus, meaning that you must make the required min deposit to claim it. The min deposit amount will depend on the selected sports betting site. Some eSports betting sites will welcome their customers with a match deposit bonus, with the best one being at least 100% of your deposit amount.
A free bet is one of the best bonuses you'll find at eSports and sports betting sites. A free bet allows you to wager on sports and eSports with bet credits with or without a min deposit. For instance, you may receive £20 in free bet credits if you deposit £50. Your free bet may come as a risk-free bet, allowing you to get a refund if you lose your first bet.
As an eSports enthusiast looking to capitalise on the best eSports betting bonuses, you must keep the bonus terms and conditions in mind. By reading the T&Cs for an eSports bonus, you get to know the min deposit required, the qualifying bet, bonus code, bonus time limits, bet limits and wagering requirements.
Esports Betting Tips
With the information provided here so far, you should be able tontify your favourite eSports betting options and place bets. However, you can improve your gaming experience with our eSports betting tips. Consider the following factors to become a better eSports bettor.
Shop Around for the Best eSports Odds – Each of the eSports betting sites recommended here has its unique odds. You should compare the available options and choose eSports bookmakers with the most rewarding odds for a chance to win bigger prizes.
Identify Your eSports Games and Market/Markets – eSports gamers have several options to choose from when it comes to eSports events, games and markets. Be sure to research the various games and markets and select the ones you think work best for you.
Know Your eSports Team and Players – Like sports betting on regular sports, eSports betting requires you to know each player's teams. Some of the renowned teams include Team Liquid, Ninjas in Pyjamas from Sweden, and Evil Geniuses.
Do Your Research – Whether you are wagering on eSports, football, basketball or other sports, thorough research is paramount. The information you should look for includes rosters changes, practice time, characters bans and team composition.
Conclusion
If you are an eSports gamer or just a fan looking to wager on competitive video games, there are many options for you. Whether you are using a desktop, Android or iOS device, you can now bet on the best eSports games and tournaments for real money online.
To sum it up, you can use the information presented here and then decide for yourself. We have listed online sports betting sites with the most sought-after eSports markets, bonus offers and promotions for eSports and other widely-played sports. Join now to grab your eSports bonuses right away.
Frequently Asked Questions
What is eSports Betting?
eSports betting involves betting on competitive video gaming at online betting sites.
Which eSports Can I Bet on?
You can bet on popular eSports such as Call of Duty, League of Legends, FIFA Football/Soccer, Overwatch, Counter-Strike Global Offensive (CS: GO), Dota 2 and StarCraft II.
Will I Get eSports Bonus Offers and Promotions?
eSports fans can claim different types of bonus offers and promotions, including welcome bonus offers, deposit bonuses, free bets and wager-free bets.