Betpack »
Best Football Betting Sites
Best Football Betting Sites 2022
Finding the right football betting site that is complete with everything you need to enjoy a wholesome betting experience can be tough. This article is tailored to make the process of finding that perfect place easier for you, with detailed information on all you need to know before choosing the right sportsbook.
Most importantly, we will take a keen look at the most recommended football betting sites for you to go with, based on our own research.
Ad Disclosure: Betpack is an affiliate website. We may earn comission if you register to a bookmaker via links on our platform. Learn more information and please gamble responsibly.
How We Review Each of the Football Bookies?
Before we recommend any football betting sites, it is important to note that they have been put to the test based on different factors. In this section, we will take a closer look at some of those factors and how we go about them.

1
Local License and Reputation
For us, this is one of the main factors we consider, as it easily differentiates the serious sites from the fraudulent ones. Our experience with reviewing football bookmakers has shown that sites with a local license hardly ever turn out to be fraudulent.

These local licenses are issued by government bodies whose sole aim is to scrutinize gambling companies to ensure they are fit to run. These bodies consider a couple of factors before vetting the firm and allowing them to operate. Once they fit the bill, they will be handed a local gambling license that authorizes their operations within specific locations; this further explains why it is impossible for us to recommend unlicensed gambling platforms.

More importantly, we also consider the site's reputation before giving our backing. We place a premium on longevity and how well the platform has tried to stay off bad publicity as well. A site whose reputation has been subject to negative reviews a number of times is not likely to be on our list of best football betting sites.
For the obvious fact that your personal information may have been saved on the platform, a site with poor security puts you at major risk. We always aim to check the security systems the site has in place to assure top-notch security for new and existing users alike.
3
Welcome Offers for Football
Welcome offers are like toppings that will ease your transition into a particular betting site.

With that in mind, it has become a tradition that we check if the site provides offers for football. We take more caution in checking out how competitive the offer is while ensuring the wagering requirements are friendly.

The best football betting websites usually offer a first deposit bonus for new users to take advantage of. While others take the path of offering free bets instead.
4
Frequent Football Betting Promotions
It is not enough that the site has attractive welcome offers like free bets for football. We also want to be sure that our recommended football betting sites have a culture of offering frequent football betting offers. The bonus offers could be promos ranging from free bets to specific football cup promotions. These promotions are incentives that keep the bettors going and ideally shouldn't be missing on a top football betting site.

As expected, a free bet offer is something both new and already existing customers always appreciate.
5
Wide Range of Football Betting Markets
It defeats the purpose of playing at a football bookie that falls short in betting markets. By standard, we always check how wide the coverage of football events is on the platform. Most importantly, we also look out for how much variety is expressed in the betting options offered at each football game.

The best football betting sites we recommend are always stacked with broad coverage of games and an average of over 200 betting markets per game. This goes in line with the industry standard and what is attainable with some of the best football betting sites around.
There are specific questions we ask while trying to figure out if a website is mobile-friendly. Some of these questions include: How does the graphics render with mobile devices? Is the speed at optimum with mobile devices? Is there a mobile app you can download?

The answers to the above questions help us rate whether users will find it enjoyable betting on the site with a mobile device.
7
Attractive Football Odds
For the most part, how much you can win on a football betting site is dependent on how attractive the offered odds are; this explains why we take our time to compare the football odds on different bookmakers and pick the ones with the best odds. These sites always end up giving you more in value, as your winning potentials tend to be higher.
8
Variety of Payment Methods
This may not be the first thing we consider when reviewing football betting websites but it is one quality we look out for regardless. The essence of having a variety of payment methods to choose from, on a bookmaker, cannot be underestimated. Most bookmakers allow entry of players from different countries. For some of these countries, there are payment options that are operational there.

If the payment options are limited, it becomes stressful for those players to process transactions on the site and this could place a dent in the player's betting experience. Thus, our ideal football betting site is one that comes packed with a range of payment options for a large crop of bettors to take advantage of.
Best Features For Football Betting Sites
In this section, we will take a closer look at some of the best features you will find on the best football betting sites.

Live Stream Football
This feature only started to make waves among sportsbooks a few years ago. With this feature on football betting sites, you don't necessarily have to leave the website to catch up on games as they happen.
A broad range of betting sites UK are offering this feature nowadays, and it has become hugely popular among bettors. For the most part, the top betting sites only provide live streaming for specific football matches and not exactly all the games available for betting on the platform.
In Play Betting
This feature more or less changed the approach to betting for good. Unlike before, when you could only bet on pre-match games, the in-play betting feature allows you to bet on ongoing games.
For most football betting sites, all you have to do is to click the "Live" icon on their site. After doing that, you will be redirected to the live football games available at that time.
The in-play bets also allow similar features as you can enjoy with pre-match bets.

Cashout Feature
The cashout feature allows you to take a fraction of expected winnings on a running bet. It is mostly available when some games in the slip have already ended, with others still pending.
This option comes in handy in cases where you are undecided on whether or not the remaining games will be in your favor.

Bet Builder
This is one innovative feature on online football betting sites UK, as it allows bettors to create customized bets. In this case, the bet builder makes it possible to bet on multiple options in one football event. This is something that is not allowed with the regular accumulator bets.

Bet Editing
This is a forward-thinking feature that allows bettors to make adjustments to their bets after they are placed. Most online football betting sites that offer this feature allow bettors to increase stakes, add more events and do so much more.

Bet editing is a lifesaving feature that comes in handy for bettors who make a mistake and can't cancel their bets.
Acca Insurance Refunds
This is one bonus feature similar to free bets provided by sportsbooks, where a refund is made when your accumulator is lost by one game/event. Different sportsbooks have specific rules that guide how the refunds are run.

Enhanced Odds & Price Boosts
This is a promotional strategy deployed by top football betting sites where they increase the odds of specific betting markets. The main aim of enhanced odds is mostly to garner traction to the platform and to acquire new customers.
What Do the Best Football Apps Offer?
If you have ever wondered why the best betting apps that offer football betting markets usually gather a lot of users, we will shed more light on that topic. If one can place bets on betting sites UK, what is the need for an app? One of the main things is their speed. When you are, for example, in a hurry and you need to place a bet quickly, using a football app will get you there the fastest. And by using these football apps you will also get the best bonuses and offers, just like you do with their desktop and mobile sites.

And you don't need to worry about your safety either, as the best football betting sites always have the security of their customers first in mind - with their apps as well.
Live Betting & Live Streaming
This is easily one of the features that have become the norm among the best football apps out there.

The feature allows you to not only bet on live games but also to watch them live. With the help of the live statistics that come alongside this feature, you also get to have enough data to base your predictions on.
Cashout Functionality
Cashout is yet another feature that has made waves among the best football betting apps that football bettors can use. The feature simply helps you decide your bet prematurely by taking a certain percentage of the expected winnings.

Compact Betting Experience
One of the upsides to most of the betting apps out there is the compact experience they promise for mobile users. These apps are built specifically to function optimally with a range of mobile devices, hence providing you with an unmatched betting experience.

Minimal Data Usage
This is one advantage betting on the best betting apps holds over betting websites. For the most part, it takes more data to navigate a website, which explains the occasional lagging sometimes.

Scheduled Notifications
The best football apps also have the habit of programming a notification feature in their apps. This notification feature comes in handy in updating you on the current promotional offers.

You can also select your preferred club/sport and choose to receive notifications regarding that club/sport alone. This is one luxury that is not open to you when playing on websites.
Special Promotional Packages
This is one of the few selling points when using some of the best betting apps. These betting apps often make provision for special bonuses like free bets that can be accessed when using the app. But just remember: it is always important to check the terms and conditions of the free bet or any other offer before using it.
How To Use Apps for Betting?
Now, let's take a closer look what you need to do and have in order to start using betting apps: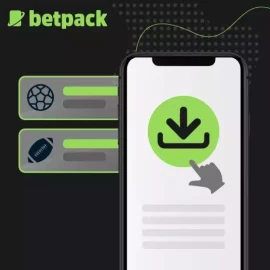 Step 1
Choose Your Bookie
There are a lot of bookmakers to choose from. You can use Betpack.com to analyze different football betting sites and then make an educated decision.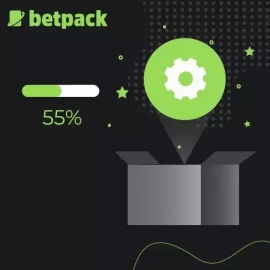 Step 2
Download & Install
Download the app from the best football betting site 2022 you've chosen; you can find it in the App section. The installation part is rather easy as most of the time the app starts installing automatically after downloading it.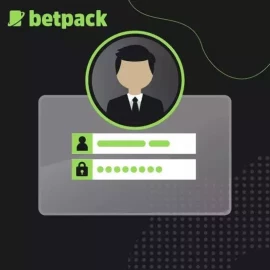 Step 3
Sign In
Now, when you have downloaded and installed the app, the next thing you need to do is to sign in. Use your username and password to sign in, and then you are ready to take full advantage of everything the app has to offer.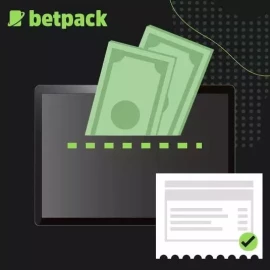 Step 4
Make A Deposit
If you don't have money in your betting account yet, the next step is to make a deposit. In the app, go to the cashier tab, click deposit, and then write down the money you want to transfer. Once you have done that, you can start putting some bets in with your new app.
Most Popular Football Betting Markets
If you have ever read our football betting terms explained article, then this will appear as a summary to you.

However, if you haven't, there is no cause for worry. In this section, we will throw some light on the most common football betting markets that exist today.
1X2 Football Bets
This is one of the most basic options offered by bookmakers and is often a measure of comparing which ones have the best odds.
The "1" option represents the home team winning. The "X" represents the game ending in a draw while the "2" option represents the away side winning. Of course, there are, for example, handicap bets where you have 1X2 options but the functionality is the same.
This is one betting market that needs no introduction as it is the first option you will see on every football event on a sportsbook. The option is very straightforward as it involves winning outcomes of a game, with highly competitive odds.
Double Chance Betting
Double chance is like the 1X2 football bets but with some insurance. For this option, you are betting that one of two winning outcomes will play out.
There are three main double chance options at bookies – 1X, X2, and 12. The 1X option means you are betting that the home team will Win/Draw. The X2 option implies you are betting the away team will win/draw.
On the other hand, the 12 option implies you are betting that any of the teams will win.
Both Teams To Score (BTTS)
This is one of the popular football betting markets that are widely the go-to options for most punters. This option already explains itself: here you are betting that both teams playing will each score at least one goal.
This football market is quite often the go-to option in cases where both teams playing are of equal strength and/or you perceive that the 'lesser' side boasts enough quality to score a goal regardless.
Also, this is the most favored one in cases where both teams have proven to have good scoring records. Some certain leagues across Europe are well famous for this option and the German Bundesliga comes to mind first, not to be forgetting the MLS from North America.
Handicap Betting
Handicap betting is a feature where one team is already given a competitive advantage over the other. For most football bookies, the handicap is always represented with (+/-) attached to a number. There are two types - Standard and Asian handicap betting.

For the Standard handicap type, the use of whole numbers and ratios are used in representing the handicap option. It is common to find the handicap being represented as 0:1.
For the Asian Handicap, the use of non-integral figures is the focus. One common way this is represented is as +/- 1.5. For example: if you are trying to bet on a game between Real Madrid and FC Barcelona, and you bet on Madrid with a handicap of -1.5 goals, that means that you are giving Barcelona the competitive edge here and Madrid have to win by at least two goals. If Madrid ends up winning by a 1-0, 2-1, or 3-2 scoreline, your bet is lost.
Corner Betting
This is one betting option that is relatively new among football bookies, compared to the others. In this case, the bet is tied around the corner outcomes of the game. There are two ways to go about corner betting – Total corners or Team Corners. For the Total Corners, you are betting on the number of corners in a game.
On the other hand, the Team Corners focus on how many corners will be recorded for one team in the game. There are also markets for other similar things - for example, yellow cards.
Other Common Football Bets
Let's look at other special bets that are fast growing in popularity among football punters.
Next Team To Score
This bet option is pretty straightforward. In this case, you are betting on the team that will score the next goal. This option is often available for live games.
Player To Score
Player to score is act option that is not as dependent on the team's performance as many others. For this option, you are betting on the specific player you think will score in a game.
The football bookies will draw out odds for most players on both sides. The odds are often higher when the player is not playing as an attacker. Expectedly, wingers and strikers tend to have lower odds in this case.
Betting on Players To Be Booked With Yellow & Red Cards
This option is definitely self-explanatory: it is a player-specific betting option where you are betting on the likelihood of a player getting booked in the game.
Quick Bets
Quick bets are a unique option on football betting sites, allowing you to place a bet with just one click. Usually, you can find this option just by clicking the bet slip icon.
Betting on Football Long-Term Markets
As we discussed the popular short-term football betting markets above, our next mission is to dive into the long-term ones.
Outright Betting
With outright betting, you are placing a bet on a result of a tournament or competition. Obviously, compared to regular betting options where the focus is on one game alone, outright betting is more long-term.
Some of the most common outright betting options include tournament winner, golden boot winner, or highest goalscorer, among many others.
Since the outcome for this type of bet takes time, the odds are usually higher than with regular short-term betting options.
Teams To Be Relegated
This option is rather peculiar as it involves placing a bet on the most likely teams to get demoted to the lower division after the end of the season. Usually, there are a bunch of sides that many see as potential relegation candidates, based on their history and the quality of players they carry. And if the likelihood is high for a team getting relegated, the lesser the odds are.
Obviously, it goes the other way as well: when talking about the Premier League, Manchester City has won four out of the past five titles and is always one of the favorites to win the league. If you were to bet on such a heavyweight to get relegated, the odds could be as high as 1000 odds.
Football Market Transfers
Football transfers are a more specific betting market. There the focus is centered around what happens in the football transfer market. It is a rare option among bookmakers, and only top football betting sites offer it.
Next Coach To Be Sacked or Hired
Yet another rare option that is not available with many bookies. In this case, you are betting on the likelihood of a coach getting sacked or hired.
Individual Award winners
With the individual award winners, the focus shifts away from a team perspective and dwells solely on standout performances from individual players in a team. This bet option means backing a player to claim a particular award.
Ballon d'Or Betting
For this option, you are betting on who you think will win the Ballon d'Or in a specific season.
The Ballon d'Or is one of the most prestigious awards that could be won by a player and ranks top on the list of highly respected individual plaudits.
Fifa The Best
In a similar fashion to the Ballon d'Or, you are betting on who you think will win the FIFA best player of the year award for a particular calendar year.
Competition Top Scorer
In this case, you are betting on who you think will score the most goals at the end of a particular competition. The less likely a player is to end up with the most goals, the higher the odds are for that player. As the name implies, this bet can only be settled when the competition is over.
Competition Top Player
In this scenario, you are betting on who will be the competition's best player at the end of the season. A typical example is betting on who will win the Premier League Player of the Year award.
A player does not necessarily need to score the most goals to win the award; he only needs to be declared the overall standout player in that competition.
Goalkeeper With Most Clean Sheets
For this option, you are betting on the goalkeeper that will end up with the most clean sheets in a competition.
This one includes a strong influence by the quality of defenders in front of that goalkeeper.
Player With Most Assists
The player with the most assists is a straightforward option: it allows you to bet who will lead the assist charts at the end of the season for a particular competition.
Common Promotions Offered by Football Bookies
Different bookmakers have their specific bonus offers. However, there are promotional offers, which have become quite the norm among the best football bookmakers; Free Bets, Deposit Bonus, and Bet X Get Y are definitely among the most popular football betting offers there are.
Free Bets
Free bets are easily one of the most common football betting promotions you can find at the best football betting sites. With this promotion, you get a free bet offer; usually, you receive the free bet after you have placed a bet.
Different bookies have specific terms and conditions that cover how you are able to use the free bets.
A promotional offer like this is different, compared to many others, as it isn't specific to one class of bettors. For most bookies, free bets are offered to both new and existing bettors on the platform to help them leverage opportunities.
Deposit Bonus
Virtually every major football betting site out there today offers a deposit bonus. This bonus is one that is often specific to new users. As the name implies, the player will receive it after making a deposit. The bookmaker decides the bonus percentage, whether given as free bets or a match bonus.
Nowadays, the 100% deposit bonus is one of the most common promotions bookmakers offer new players. A 100% deposit bonus means that if you deposit 50 USD, your deposit bonus will be 50 USD as well. With the 100% deposit bonus, bookies will always double the amount you deposit, but there are also bookies that offer the bonus as a free bet.
Similar to the free bets, there are also specific terms and conditions that are attached to getting and using the bonus. You can get more information when you visit the site's promotions page.
Bet X Get Y
Bet X Get Y is a conditional promotional offer. The main reason why the bookies provide it is to push bettors to take action. For example, the platform could have a bet 10 USD and get 20 USD in free bets offer.
In order to claim the free bets, you need to meet the first condition: placing a bet on the said amount. In most cases, detailed terms and conditions will apply to using the free bet.
Tips for Online Football Betting
There is no such thing as a 100% sure way to guarantee a consistent winning streak in football betting. Regardless, there are tips you can use to give you an edge when you apply them.
In this section, we will take a thorough look at some of the football betting tips to have the knowledge to use things from exploring promo offers like free bets to employing a bankroll strategy.
Follow The Latest Team News and Stats
You can never go wrong with this when betting on football. One factor that decides how well a team will play is form. Following the latest team stats and news will help you stay informed on how they are doing. The stats can, for example, tell you how many games the team has won or lost in their latest campaign or how they have done during the last five home games.
The team news will inform on some of the few changes that could positively or negatively impact the team's result. For example, if a team employs a new coach, this could affect the team's performances in the next few games.
Watch Live Matches and Practice In Play Betting
One of the best ways to ensure you have a chance to make a profit in football betting is following live games and practicing in-play betting.
For these games, you already have stats that hint what direction the game is going. Taking the extra data into account, you have a higher chance of winning.
Some of the football sites in the UK already offer both live betting and streaming features, meaning you can do it all in one place.
Use Accumulators to Combine Multiple Bets
If you prefer to place bets where the rewards are high, this is one tip you should take personally: use accumulators to combine multiple bets. In the long run, you will get the most out of your bets - with higher rewards.
Try to Find Football Specific Promotions
Trying to find football-specific promotions is one betting tip that rarely gets the attention it deserves. Checking out and using the football-inclined promotions like free bets might help cushion your staking power. By using bonuses like free bets, you also get a chance to earn extra profit alongside your regular bets.
Execute a Bankroll Strategy
A bankroll strategy is a precautionary method you have in place to ensure you are not going overboard with your bets. A clear bankroll strategy could be setting a fixed amount on what you stake on bets and increasing based on returns.
With a bankroll strategy, you try to ensure your earnings are relatively higher than your stakes. Executing this strategy will keep you on the top of your game, trying to guarantee success in the long run; every bettor, who wants to try to win, should stick to a working bankroll strategy.
Gamble Responsibly at All Times
Successful bettors are the ones who seem to have some level of control over their betting and not the other way around.
There is a very slim line between betting and getting addicted; that is why it is crucial to use every method possible not to cross that thin line, and that is what the best football betting sites are doing as well.
Football betting: Pros & Cons
Pros
The amount of offered markets
Best bonuses and promotions
Played year-round
Chance to bet on lower leagues as well
Low volatility due to popularity
Cons
A well-known sport - sometimes hard to find value bets
A lot of
Most Common Football Leagues Offered by Sportsbooks
So far, we have gone through some of the most crucial angles that pertain to football betting. In this section, we focus on the most popular football leagues, which the best football sites cover widely - obviously from the betting perspective.
English Premier League
This football league is prestigious on two fronts; branded for being the most popular football league in the world as well as the most popular in England.
The broad popularity of the English top flight is a testament to how widely people watch the EPL, around the world. And thanks to the TV money, it is no surprise that the league has the broadest viewership and global audience compared to any other League in Europe.
In the Premier League, 20 teams compete for a title through to the end of the season. The intense rivalry between the teams, added to the general physicality of the league, explains why EPL gets the most traction.
While there are favorites ahead every day, surprising upsets have become more common, and the uncertainty that comes with fixtures adds to the thrill.
Regarding the English Premier League betting, you are ushered into an array of football betting markets to explore. The goal markets and the 1X2 options are among the favorite betting markets in this league.
With some of the free bets offers, there are restrictions regarding what leagues you can bet on, but EPL is often part of free bets.
Spanish La Liga
La Liga is, without a doubt, the most popular club football league in Spain. The highest football league in Spain gets a good rep for the brilliant playmaking and technical football, being the norm there.
Even though the overall rivalry in the Spanish La Liga isn't comparable to the Premier League, it is no walk in the park by any means. During the last decade, the top teams like Real Madrid, Barcelona, Atletico Madrid, Sevilla, and Villarreal have been doing very well in European competitions, like the Champions League.
Both teams to score, corner betting, goal markets, and handicap options are among the most common betting options in Spanish Primera Division.
And, like the Premier League, this is one league that's often applicable for most bookies offering free bets.
Italian Serie A
Similar to others, this is the top-tier football league, except in Italy.
The league is particularly popular for its intensity & no-nonsense defending that differentiates it from other European Top Leagues in the general style of play.
After dropping in popularity over the past two decades, Serie A is beginning to make waves again, especially with the influx of world-class players. Some of the top-rated teams in the league are Juventus, Inter Milan, AC Milan, Napoli, Atalanta, Fiorentina, and AS Roma.
Serie A offers weekly entertainment for football fans around the world. It is also worth exploring when it comes to betting and how to use your free bets or other football promotions.
German Bundesliga
Bundesliga is undoubtedly the most popular club football league in Germany. Bundesliga used to struggle for viewership, but over time it hasd to pull in decent numbers; that is also thanks to the success the biggest club in Germany, Bayern München, has achieved in Europe.
The league is known, maybe more than anything, for the constant outpouring of goals week in, week out. That explains why bettors who like betting on goals consider Bundesliga a favorite.
The top teams in this league in the last decade are, in addition to Bayern mentioned already before, Borussia Dortmund, RB Leipzig, Bayer Leverkusen, Eintracht Frankfurt and Borussia Mönchengladbach.
French Ligue 1
If you are a bettor who likes skillful football, then the Ligue 1 is a destination you will enjoy. The league is the biggest football league in France and hasd to gain more viewership, particularly over the past decade; that is thanks to Paris St. Germain, as it is nowadays the second richest club in the world, after Newcastle.
With the presence of players like Neymar, Kylian Mbappe, and Lionel Messi, the French top flight has enjoyed immense growth in traction. The top-rated football teams in the league are Lille, Lyon, Marseille, AS Monaco, Lille, and obviously PSG.
Ligue 1 offers quite often a lot of goals, which is obviously an important factor for all bettors. With that in mind, the goal market is the most intriguing one, out of all the football markets, among bettors in Ligue 1.
Scottish Premiership
The Scottish Premiership takes a spot as the most popular league in Scotland. Not as popular as the other mentioned leagues above, but good football exists in the competition, regardless.
The top-rated teams in this league are Rangers, Celtic, Dundee United F.C, Motherwell, Ross Country, and Aberdeen. The favorites usually come out on top in the Scottish Premiership, specifically Rangers and Celtic. That is why the 1X2 market ranks high and is usually the one most bettors decide to go with.
EFL Championship
After the mighty Premier League, EFL Championship is the highest and most prestigious football league in England. Championship is a league where the bottom three teams from the Premier League get relegated at the end of each season. The same goes for promotions: each year, the three best teams from Championship earn a promotion to EPL. The third promoted team is always decided in a football game at Wembley, which is called the Richest Game in football.
The second tier of English football has become fiercely competitive over the years and has attracted attention from football bettors all over the world. The Championship is particularly famous for being notoriously difficult, and the 'favorite' or 'underdog' tag doesn't usually mean much in terms of results.
Due to the nature of the league, it always offers highly competitive football betting odds.
Betting on International Football Competitions
Away from club football, betting sites in the UK also offer the chance to bet on international football competitions, where national sides come into play. Similar to club action, a host of football markets are also available with international football.
Some football betting experts prefer betting on international football over club football, but there is nothing actually suggesting that one is better than the other.
Without much ado, we will look at some of the most prominent competitions that UK football betting sites usually have on their sportsbook.
FIFA World Cup
World Cup is by far the most prestigious football tournament in the world. Because of its prestige, it is inarguably the most anticipated football tournament.
Every four years, 32 national teams converge to play for the chance to be crowned the World Champions.
As such, the tournament guarantees everyone some thrilling action when the best of the best are battling it out to win it all. Interestingly, the World Cup will be held this year in late November for the first time in the competition's history.
Top World Cup bookies already have different football markets offered ahead of the competition, with so much anticipation for the tournament in Qatar; some bookies have come up with special offers like free bets, solely for this competition.
UEFA Champions League
If the World Cup is the holy grail for international football, the UEFA Champions League is the same for club football. Although, the Champions League is only limited to clubs that fall under the European association.
In this competition, 32 clubs from around Europe come together to play for one prize: winning it all. You can see Champions League action every year; it is the most anticipated club football competition in the World.
Spanish giants Real Madrid have won the Champions League the most times. They are also the current defending champions at the time of writing.
Like the World Cup, UCL brings the chance to enjoy special promotions like free bets on most sportsbooks. To find free bets and other offers exclusive to this competition, go to your preferred betting site and check out the promo page.
UEFA Europa League
In terms of club football, and when talking about pecking order, UEFA Europa League is rated just behind the UEFA Champions League.
Over the last few years, the league has seen a rise in football coverage and has become one of the favorites for different bookmakers. The participating clubs really want to win the competition, and bettors can often find some of the best odds for value with the UEL.
Europa League is another league players can explore when looking for top-tier games to maximize free bets or other promotional offers.
Copa Libertadores
Coba Libertadores is the most esteemed club football tournament in South America.
The teams who qualify for this league are those who finish in top positions in their respective national leagues. It is the equivalent of the UEFA Champions League, but for clubs in South America.
The last club to win Copa Libertadores was the Brazilian football club, Palmeiras.
Copa America
Copa America is the most esteemed national team-based football competition in South America. Here, the finest South American national teams match against each other, with winning the tournament as the end goal.
The top national football teams you will find playing in this competition are Brazil, Argentina, Bolivia, Columbia, Uruguay, Chile, Peru, and Paraguay.
Like many other competitions discussed, this tournament usually comes with competitive odds for football betting customers to take advantage.
Eurocup (European Championship)
UEFA Euro is a national team-based competition set aside for European countries, as the name implies. European Championships are held once every four years.
The tournament nowadays involves 24 teams, as a host of top sides battle to be the number one football country in Europe.
Some of the biggest European teams include Germany, France, Spain, England, Italy, Portugal, Denmark, Netherlands, and Belgium.
African Cup of Nations
African Cup of Nations is unarguably the biggest national tournament in Africa. Every two years, 24 African teams come together to compete for the prize of the Champions of Africa.
The next edition of this tournament is scheduled for 2023. Some of the top national teams in the competition are Nigeria, Ghana, Senegal, Ivory Coast, Egypt, Algeria, and Cameroon.
The tournament is famous for its physicality. It usually comes with very competitive odds as well + there is always free bet offers that players can use for this competition.
UEFA Nations League
Before UEFA Nations League, European national teams played international friendlies. Those friendly matches were not meaningful enough; this led to UEFA creating something new - a league that can take you all the way to the World Cup or to the UEFA Euro tournament.
The league made its debut in 2018, and the UEFA Nations League champion gets crowned every two years.
This competition covers the most teams of any international competition. Interestingly, all 55 teams under UEFA participate in the competition and will be paired against each other until a winner emerges.
This competition covers the most teams of any international competition. It has all the UEFA nations participating, and they play against each other in different groups - based on rankings and previous achievements in the league.
It gives the lower-ranking countries a chance to have more balanced matches in international football. Though it has met with mixed reception, and some claim it was an unnecessary innovation.
World Cup Qualifiers
World Cup Qualifiers are the preliminary games that lead to the World Cup, where 32 teams will face each other. As such, it is not far-fetched that most football online bookmakers offer some of the best odds on these games once every four years.
Why Do People Bet on Football?
That is a question worth asking because football appears to take the most interest among football betting brands.
Due to that demand, this explains why most bookies tend to provide more markets on football. Here, we will go through the main reasons why people bet on football.
Popularity
Football is widely known as the most popular sport in the world, and this claim is well backed, given the global audience it has attracted over time. That also explains the popularity of football betting: it is only wise that people are betting on a sport that is most familiar to them.
Wide Range of Markets
If you take a tour around sports bookies, you will discover the football section is packed with various markets. That is not coincidental. Most bookies acknowledge how popular football is, compared to many other sports.
In line with the above, bettors love to tilt towards a sport that offers them a range of options; we have gone through earlier on this page what kind of markets football betting offers.
Easy to Bet
Easy to bet definitely applies to football. Actually, football is known as the sport that is the easiest for bettors. But why is that? One explaining factor is the number of markets. The other one? Lower volatility, thanks to football betting being so popular. Obviously, betting is never easy, and betting never guarantees you anything, but football is a good place to start if you are familiar with the sport.
One decisive factor is also that the basics of football, compared, for example, to American football, are easier to understand.
Every Sportsbook Offers Football
It is rare to find a sportsbook that doesn't offer betting markets on football. That is because a large quota of bets bookies receive is football bets. The main thing for football online sites, when it comes to betting, is to offer what their customers want. That is the main reason why the selection for football is wide.
Intriguing Odds
There is no doubt that football offers some of the most attractive odds. Aside from the fact that there is more range in markets, some of the football odds offered are a steal, which naturally attracts bettors.
Mouth-Watering Sports Bonuses
Most of the bookies are always offering different kinds of promotional offers. Often, these offers from sportsbooks, which may be free bets and cashbacks, are somehow related to football; may it be a single Premier League game or a big event like World Cup. That is, of course, an intentional strategy because they understand the pull football has. But the intentions don't matter, from a bettor's perspective: the best and mouth-watering football-centered bonuses are something you should always consider taking advantage of.
Frequent Supply of Football Markets Daily
Another reason why football betting is so popular is the supply of daily football markets. It is not over-exaggerated to state that basically every day there are football games going on somewhere in the world, usually hundreds of games. That is because there is a vast range of football leagues in different countries, and if some league is on a break, then other leagues will be available.
The best part is that many bookmakers offer markets for lower football leagues as well, and with those leagues, it is common to find over-exaggerated odds. And even though you might not find those hundreds of various markets you see on the Premier League with other leagues, there are still more than enough markets for you to bet.
Can You Watch Football on The Betting Sites?
Yes, you can watch football matches on some betting sites. Some betting platforms go as far as offering this feature in their respective mobile apps too. What it means is that in the best scenario bettors get to enjoy games with HD quality on their devices, while betting at the same time.
However, while this innovation is widely popular, not all betting sites have it. To know if the site has the live streaming feature, you will mostly find the TV icon attached to specific games. The icon implies that those games are available for viewing on the site.
Frequently Asked Questions
What kind of bonuses does betting sites offer?
The widely popular welcome bonus many football betting sites tend to offer usually includes bonuses like free bets. The customers of the top football betting sites are also used to bonuses like cashback, accumulator bonus, birthday bonus, and VIP bonus.
Do I need a promo code to enjoy bonuses?
Different sportsbooks have their own ways of going about their business when it comes to different bonuses like regular free bets. With some of the football bookmakers, you will need bonus codes to get the bonuses but nowadays it is quite rare.
Can I cancel a bet?
Yes and no. Most sportsbooks today don't allow you to cancel your bets. This explains why it is very important to go over your bets before clicking the 'place bet' icon. Once the bet has been placed, in most cases there is no going back. The best situation is to use the cash-out option, especially when the games haven't yet kicked off. This is static for all kinds of bets including free bets. However, few betting sites also allow you to make edits to your bets.
What is the minimum bet amount?
Different football bookies have their unique limits to how low you can go with the amount you bet. It is always advisable to go through the FAQ section of that website to find the minimum bet amount allowed on that bookie. For some bookies that offer free bets, especially to new users, there is a specific amount you are required to bet to unlock it.