If you want to stay safe when betting, go with Google Pay betting sites. Gpay bookmakers don't ask you for any banking info when you make your deposits. They also let you deposit instantly and are as straightforward as you want them to be. Luckily for you, we have a list of top-rated Google Pay bookmakers right here. Read on to find out more about betting with Google Pay and how you can deposit using the payment method. Let's start!
Website
www.pay.google.com
Pros
Easy and straightforward to use
Enables instant deposits to your betting account
You don't disclose your banking information when depositing
Safe and secure
You can add several cards to your Google Pay wallet
Cons
Cannot withdraw using Google Pay
Can't use Google Pay on iOS devices
Not as widely accepted as debit and credit cards
Ad Disclosure:
Betpack is an affiliate website. We may earn commission if you register to a bookmaker via links on our platform. Learn
more information
and please gamble responsibly
Betting Sites that Accept Google Pay 2023
How to deposit with Google Pay?
Depositing with Google Pay cannot be any easier. If you have ever used e-wallets, you will have no problem funding your betting account using Google Pay. Even if this is the first time you use Google Pay, chances are you will have zero issues. Nevertheless, we always aim to make even the most straightforward deposit procedures easier. To that end, we have created this six-step Google Pay deposit guide. Read on to find out how to deposit with Google Pay like a betting veteran on your first try.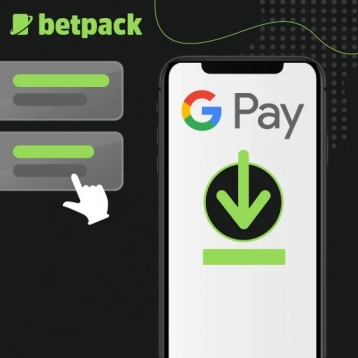 Step 1
Download and install the Google Pay app
To deposit with Google Pay, you must have the Google Pay app installed on your device. That means that the first thing you need to do is to go to the Google Play Store and download the app. When you finish downloading the app, your device will automatically install it. You can now use the Google wallet on your mobile device.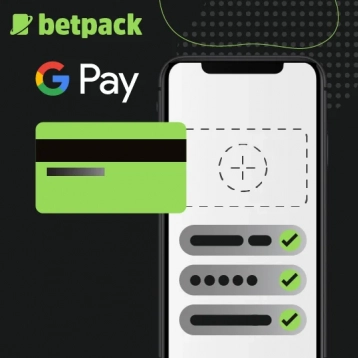 Step 2
Add a card
Now you need to open the Google Pay app and add a card to it. You will only be able to deposit when you add a debit or credit card to your Google Pay e-wallet. To do this, tap the Add Card button. Then you enter your credit or debit card information. The last step you need to set up your Google Pay account is to verify that payment option. You do this by entering the verification code you get from Google. Your Google wallet is now fully functional.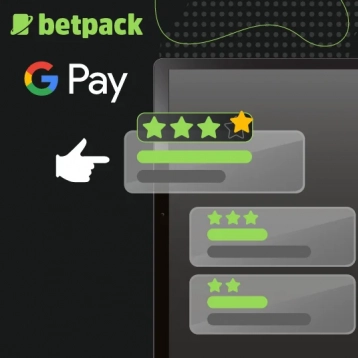 Step 3
Find a reliable Google Pay betting site
With your Google Pay account up and running, you need to find a betting site where you will open a betting account. Here, you have two options. First, you can look for a top Google Pay betting site yourself. Unfortunately, finding a quality bookie without experts' help takes at least several hours. The second option is much more appealing and one that we strongly recommend. If you are looking for a top-tier Google Pay betting site, go with the sportsbooks we list. These are all expert-vetted, are legitimate bookmakers, and have some super-enticing bonuses and betting offers.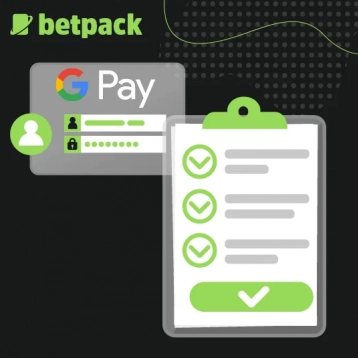 Step 4
Register
After you pick your Google Pay betting site, it is time to register there. To do this, go to the sportsbook's website and click on Join/Sign Up. As soon as you do that, a window will appear, and the bookmaker will ask you to fill out a registration form. Don't be put off by this, as registration is usually instant, and you only need to provide the bookmaker with your name, phone number, and email address. Once you finish doing that, you will need to verify your new account by clicking on the bookmaker's link via email. That's it. You now have a fully functional sports wagering account.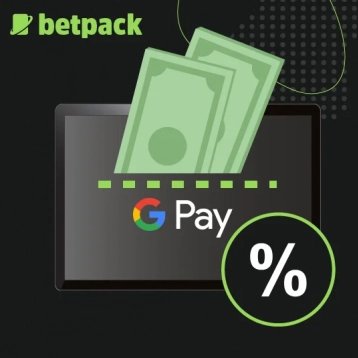 Step 5
Deposit using Google Pay
With your account up and running, it is now time to deposit. To do this, go to your betting account and click on Cashier/Deposit. Then choose Google Pay as your deposit method. As soon as you do that, you will be able to initiate the transaction without entering your credit card details or your debit card number. Instead, you only need to enter the amount you want to deposit and then follow the steps to complete the transaction.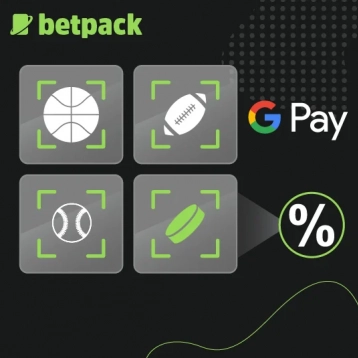 Step 6
Place your bet and enjoy
Your betting account now has money in it, and you can place your first bet. To do this, go to the A-Z sports menu, and choose your favourite sports and competitions. A list of games and betting propositions will now appear, so pick the ones you want to bet on to include them in your bet slip. Next, enter the stake amount and submit your bet. That's how easy it is to bet using Google Pay.
Examine each betting site
Before we shortlist betting sites that accept Google Pay, we make sure to examine them in detail. To do this, we analyze four things. First, we check whether these gambling sites have licenses from reputable regulators. Then we look at the encryption technology that each site uses and make sure that they all have valid security certificates. Once those two things check out, we analyze the bookies' sports betting offers and their bonuses. Here, we want to see as many wagering options and promos as possible. We also require that these offers benefit punters and not the other way around.
The next thing we do is register with the sportsbooks that have passed our initial tests. In this step, we filter bookies based on how fast and straightforward their registration is. The Google Pay betting sites with the quickest sign-up procedures get top marks from our experts. Next, we deposit using Google Pay. Google Pay deposits are always instant. So, it's only natural that we want our deposits to reach our betting accounts right away. The bookmakers that enable us to play with our money instantly continue to our next test.
We now want to see how Google Pay wagering sites behave when we place our bets. Ideally, we are looking for online betting sites that process all our bets instantly. Then, once we have all the information we need, we ask for a withdrawal. Unfortunately, you cannot use Google Pay to withdraw your winnings. However, that's not an excuse for bookmakers not to send us our money right away via some other payment method and to do that instantly.
When all of our tests finish, we review and rate the best betting sites that accept Google Pay. Then, we list these top Google Pay wagering providers on our website and tell you all you need to know about them.
Apple Pay vs Google Pay Betting Sites
If you are a punter looking for an easy-to-use e-wallet, Apple Pay and Google Pay are great options. These e-wallets let you make your payments instantly and are two of the safest and most secure payment methods around. However, they do have a couple of drawbacks that you should know. So let's put Apple Pay and Google Pay betting sites side by side and see which one is a better fit for you.

Apple Pay Betting Sites
Apple Pay betting sites have instant deposits
You cannot withdraw using Apple Pay at online bookmakers
You can add up to 8 credit or debit cards to your Apple e-wallet
All payments are secured with the latest in encryption technology
Android users cannot bet using Apple Pay
The Apple Pay service is not available in all countries
Google Pay Betting Sites
Sites that accept Google Pay let you deposit instantly
You cannot withdraw your winnings when you use Google Pay at online betting sites
You can add multiple credit and debit cards to your Google Pay account
Google Pay payments are protected by several layers of security
iOS users cannot choose Google Pay as a payment method at online betting sites
Only players from select countries can enjoy the perks of Google Pay wagering sites
Frequently Asked Questions
Can I use Google Pay to bet online?
Yes, you can. Google Pay is one of the best payment methods when it comes to depositing at online betting sites. It allows you to deposit money into your betting account instantly and guarantees the safety of all deposits.
What betting sites accept Google Pay?
Google Pay is getting more common in the online betting industry, and most online bookmakers let you use it. However, there are still many sports betting providers that don't work with the Google wallet.
Can you bet with Google Pay in the UK?
Yes, you can. Punters in the United Kingdom can use Google Pay to transfer money from their bank cards to their betting accounts.
How can you use Google Pay for online betting?
It's very easy to use Google Pay when you are betting online. You only need to download the Google Pay app on your mobile device and add credit or debit cards to it. Then you need to go to a Google Pay betting site and choose Google Pay as a deposit method. That's it.