New Betting Sites
If you are looking for the best new betting sites, you have come to the right place.
Ad Disclosure: Betpack is an affiliate website. We may earn commission if you register to a bookmaker via links on our platform. Learn more information and please gamble responsibly.
The best new betting sites 2023
How to find new bookies?
New online bookmakers appear at a faster rate than ever. And that's great. However, that also means that finding reliable new betting providers is becoming more difficult as a result. There are many dubious new online betting sites out there, and it can be tricky to recognize and avoid them. Fortunately, we can help. Read our 'How to find new bookies?' guide and locate your ideal online bookmaker right away.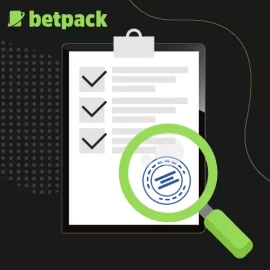 Step 1
Check for a license
The first thing you should do is check whether the new wagering site has a gambling license. A gambling license lets you know that you are dealing with a legitimate sports betting site.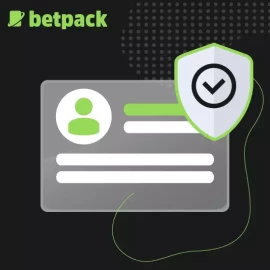 Step 2
See if the new bookie is secure
Security is the next thing to check. Only go with new sports betting sites that utilise the latest in security technology. That means 128 or 256-bit encryption and valid security certificates.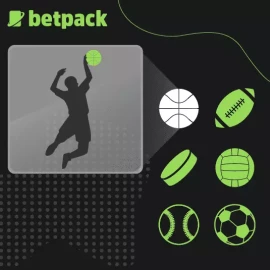 Step 3
Analyse the sports and markets on offer
As a rule of thumb, new online bookmakers should include all the major sports but must have a decent collection of obscure sports. The betting providers you choose must also have a lot of online sports markets, as well as live and pregame betting propositions.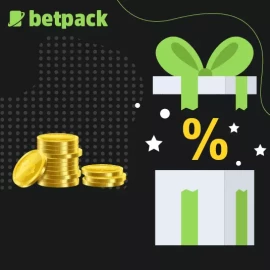 Step 4
Check for bonuses
You want to play with a new betting provider that's more generous than the competition and has the best bonuses in the betting industry. Opt for new bookmakers with lots of enticing deposit bonuses, free bet promos, and risk-free wagers.
Finding the Perfect New Betting Site
As new bookmakers might be enticing, their lack of performance history remains a problem for many players. And we understand them. It would be much better if some indicators would let customers know whether a new betting site is reliable or not.
That's where we come in. Several indicators can inform you if a new sportsbook is reliable or not, and we will tell you all about them here. These are the things that your new betting site must have:
License
Secure systems
Lots of sports
Variety of betting markets
Bonuses and promos
24/7 customer support
Wide range of payment options
A sports betting site must have all of these things. The two most important among them are the gambling license and security. The new bookmaker you choose must have a valid license from a reputable gambling authority such as the UK Gambling Commission. It must also use data encryption and protect your private information in every transaction you make.
You can only consider a new bookmaker after it has ticked the license and security boxes. As soon as you see that these two crucial aspects are there, you can look at the other things we listed.
Go with new bookies that boast tons of sports and markets. If they have free bets and deposit bonuses, that's even better.
It also doesn't hurt if new online betting sites offer round-the-clock customer support service. Similarly, a varied selection of banking options can go a long way in facilitating fast and easy deposits and withdrawals.
Pros & Cons of New Bookmakers
New betting providers try hard to stand out. They do everything in their power to be better than more established wagering operators. Most of the time, new bookies succeed in their mission and offer tons of perks to their customers. However, their inexperience also means that there could be a couple of drawbacks when playing with them. Here are all the pros & cons of new bookmakers you need to know.
Pros
Wide range of sports on offer
Lots of bonuses and promos
Latest in betting markets
Innovative payment processors
Quick-to-react customer support
Cons
Lack of performance history and experience
Established vs New Betting Sites
New betting sites are often much better options than established bookies. They have the desire and ambition to innovate more than their established counterparts. That often results in an improved betting offer for players. However, that doesn't mean that you should ignore well-respected wagering providers just because of that. Let's see how these two types of bookies compare to each other and which one works for you.
Established Betting Sites
They often rest on their laurels and don't innovate and improve their bonus offers
They are a known quantity, and punters know what to expect when betting there
Due to being around for longer, they have better resources than new wagering providers, meaning they can afford to spend to improve their betting offer
Their payment methods may also be lagging, and they might find it hard to keep up with the fast-evolving FinTech industry and its options
New Betting Sites
They try to impress players and offer enticing bonuses
Don't have a very long performance history and track record
Tend to be open to innovation and work with the latest banking methods
Their customer support is top-notch, and they can respond to players' request quicker as they don't serve as many customers as established bookies
New Bookmaker Bonuses
The best way to see how innovative new betting providers are is to look at the bonuses they offer. New bookies get very creative with their promotions and make them more lucrative than the promos offered by competitors. They do this to attract new customers, and it is fair to say that punters profit from this the most. Let's look at the types of new bookmaker bonuses currently available to players and see how you can benefit from them.
Welcome Bonuses
New betting providers don't wait long to show you their best bonus. They give you their most generous promo at the start of your betting adventure when they credit their welcome bonus to your wagering account.
Welcome bonuses are promos that new customers get when they register and deposit with a new bookmaker. These are usually matched deposit bonuses where the bookie matches your deposit up to a given amount. For instance, if the online sports betting site has a 100% up to £300 welcome bonus, it will match your first deposit up to £300. That means that if you deposit £300, the betting provider will give you another £300 and credit those bonus funds to your account. So, instead of playing with £300, you can now place bets with a total of £600.
And that's just the beginning. Welcome bonuses are often in the form of welcome package offers. That means that you can get a welcome offer that consists of more than just one benefit. For example, you might get a matched deposit bonus, and several free bets rolled into one welcome bonus. This is not uncommon, and online casinos have been doing it for ages. Online casino sites give their players a matched deposit bonus offer and complement that with free spins on some of their casino games to make the welcome offer more enticing.
These welcome bonuses come in quite handy when you want to bet with more funds and get off to a winning start. They help you bet and stake more money than you have deposited and increase your chances of winning big as a result. And the best thing is that the latest betting sites have them in spades.
Free Bet Offers
Free bet bonuses are among the most enticing promos new bookies have. The best betting sites give players free bets frequently and include them in welcome offers, loyalty programs, and as part of reload deposit bonuses.
With free bet offers, you place a bet with the betting provider's funds. That means that if your bet wins, you can collect your winnings. For instance, if you get a £30 free bet, you can collect your winnings from it in the same way as with any other wager. If that bet loses, though, you don't lose anything. You were playing with the bookie's money, so the only thing you lost were those £30 in free bets. And that's not a loss that's hard to take.
Let's look at a couple of free bet offers we found online to show you how they work:
Free Bet Offer: Register and Get a £10 Free Bet (Min Deposit £10, New Customers Only, Minimum Odds 1.5, Stake Can Be Used on 4+ Accumulator Bets, Bonus T&C Apply);
Free Bet Bonus: World Cup £10 Free Bet (Existing Customers, Min Deposit £10, Min Odds 1.8, Offer Valid During FIFA World Cup, T&Cs Apply).
As you can see, both of these free bet offers give players a £10 free bet. However, they are not the same. The first free bet offer is for new customers only. They get the free bet when they register and make their first qualifying deposit.
The second free bet offer is for existing customers, and they can only get the free bet during the FIFA World Cup. New bookies regularly give players free bets during special events such as the football World Cup, the NBA Playoffs, the Olympics, etc.
Risk-Free Bets
Risk-free wagers are a very enticing variation of the free bets we described above. With these free bets, you don't risk any of your funds. Instead, if the bet you placed loses, you get your stake back.
For instance, if you bet £200 and your bet loses, the bookie will give you that £200 in free bet credits. That means you can use those free bet funds to wager again. In other words, even though the football or horse racing betting proposition you backed lost, you didn't.
These free bets are perfect if you want to remove emotions from your wagers. Many punters say that they can make more educated predictions when sentiments are taken out of the equation. Risk-less free bets help them achieve that goal.
ACCA Boosts
Players get ACCA boosts when they include a predetermined number of selections in their accumulator bets. These boosts increase the odds of combo bets and increase players' potential winnings as a result.
Let's look at an ACCA boost bonus offer to show you how these promos work:
Accumulator Bet Boost: Include 5+ Selections in Your ACCA Bet and Boost Your Winnings By 10% (Min Bet £10, Min Odds 1.5 Per Selection, Full T&Cs Apply).
As you can see, to qualify for this bet boost promo, you must first meet the terms and conditions of the bonus. The first of these terms, and the most crucial one, include a minimum of five selections on your bet slip. You also need to bet a minimum of £10, and each of your picks must come with odds of 1.5 or higher. If you include selections that have lower odds, those picks won't be considered as qualifying legs.
ACCA boosts are significant if you are a budget bettor. They allow you to increase the odds you are betting on and to get better potential winnings. In other words, even a minimal stake of £10 or £20 can result in substantial profits, provided you include enough legs on your bet slip. And seasoned betting pros often break the bank with the smallest of stakes.
How do we review new sports betting sites?
First, we check whether the new bookie we shortlist is a legitimate business. We analyze the bookmaker's license and only continue with a betting operator with approvals from reputable gambling regulators. We also look at the sportsbook's security credentials in this step. The betting providers we list must utilize state-of-the-art security technology.
To see whether a new bookmaker is all that it promises to be, we register with it. We only list betting providers that have simple and straightforward sign-up procedures. The next thing we do is make a deposit. The newest betting sites usually have the fastest deposit times. We want to see this in the bookmakers we review. If our deposits take more than a couple of minutes to reach our betting accounts, we discard the bookie.
3
Bet and Withdraw Winnings
Now we want to see if the betting provider gives us the tools we need to place winning bets. To do this, we place several bets and try to get as much information from them as possible. The bookies we list must have lots of sports and markets on offer. They must also boast competitive odds and give us the chance to trigger as many bonuses as possible. When we have gathered all the info we need, we ask for a withdrawal. As with our deposits, we want all of our cashouts to be instant too.
Once we are happy with what we have seen, we rate and review each new bookie. We give our stamp of approval to the best betting providers and include them on the list that you can see on our website.
Top 10 New Bookmakers
| Rank | Name | Bonus | Launch Date |
| --- | --- | --- | --- |
| 1. | Hawaii Spins | 200% Sports Bonus | 2022 |
| 2. | Sportaza | 100% up to €100 | 2021 |
| 3. | BritainBet | €10 Free Bet | 2020 |
| 4. | PlanetaXbet | 100% up to €500 | 2021 |
| 5. | Funbet | 50% up to €50 | 2020 |
| 6. | JeetCity | 50% up to €400 | 2022 |
| 7. | BetTarget | €10 Free Bet | 2021 |
| 8. | Betcoco | €25 Free Bet | 2022 |
| 9. | Richy Reels | 100% up to €1000 | 2022 |
| 10. | Xplaybet | 100% up to €100 | 2020 |
Rank
1.
Name
Hawaii Spins
Bonus
200% Sports Bonus
Launch Date
2022
Rank
2.
Name
Sportaza
Bonus
100% up to €100
Launch Date
2021
Rank
3.
Name
BritainBet
Bonus
€10 Free Bet
Launch Date
2020
Rank
4.
Name
PlanetaXbet
Bonus
100% up to €500
Launch Date
2021
Rank
5.
Name
Funbet
Bonus
50% up to €50
Launch Date
2020
Rank
6.
Name
JeetCity
Bonus
50% up to €400
Launch Date
2022
Rank
7.
Name
BetTarget
Bonus
€10 Free Bet
Launch Date
2021
Rank
8.
Name
Betcoco
Bonus
€25 Free Bet
Launch Date
2022
Rank
9.
Name
Richy Reels
Bonus
100% up to €1000
Launch Date
2022
Rank
10.
Name
Xplaybet
Bonus
100% up to €100
Launch Date
2020
Best New Bookmakers by Category
| Feature | Name |
| --- | --- |
| Best New Bookmaker | BritainBet |
| Best Promotions | BetTarget |
| Best Mobile Bookmaker | 5plusbet |
| Best Odds Bookmaker | 10bet |
| Best Crypto Bookmaker | NitroBetting |
| Best for Live Play | Betwinner |
Feature
Best New Bookmaker
Name
BritainBet
Feature
Best Promotions
Name
BetTarget
Feature
Best Mobile Bookmaker
Name
5plusbet
Feature
Best Odds Bookmaker
Name
10bet
Feature
Best Crypto Bookmaker
Name
NitroBetting
Feature
Best for Live Play
Name
Betwinner
Types of Bets at New Sports Betting Providers
New betting providers pamper their players. They know that the best way to attract new customers is to offer as many bet types as possible. And so they do. Unlike established betting operators, where you know more or less what you are getting, new bookies can impress players with their betting markets and bet types. These range from traditional betting options to novelty wagering opportunities, such as betting on fantasy sports. Let's look at what the best new betting providers offer.
Pregame Bet Types
Pregame betting markets are crucial parts of a new bookie's offer. Most of the bets players place are on pregame bet types. That means bookies try hard to include as many bet types as possible. Here are some of the bets that new wagering providers boast:
Match winner
Handicap
Player props
Totals (Over/Under)
Correct Score
Futures
A quality wagering provider will have dozens of bet types for each game and event. This is especially true for football betting.
A popular football event can come with hundreds of different bet types. You would be hard-pressed to think of or find sports betting market that new football betting sites don't have for their Champions League or EPL games.
The same goes for other popular sports such as basketball, tennis, or horse racing. For instance, punters bet on top-tier horse racing events such as the Cheltenham Festival or the Grand National months before the races take place. These horse racing extravaganzas come with lots of betting opportunities, especially if you like placing futures bets.
In-Play Betting Markets
In-play or live betting markets are also popular with players, especially the experienced ones. When you bet on live betting propositions, you place your wagers as these live events happen. That means you have a chance to see how players and teams perform and place a bet that has better chances of coming to fruition. That's an aspect of in-play betting that seasoned punters love and make the most of frequently.
If you are betting at top-quality wagering providers, you can expect to see the same bet types in both the pregame and live wagering segments. The only difference will be in the odds you will get.
When you bet pregame, there is not much movement of the odds. However, when you bet live, the odds will increase and decrease all the time, depending on what is happening in the game. For instance, if the team you like to back is losing, you can expect to get higher odds. It will have to overcome a deficit to triumph, and the odds will reflect this. On the other hand, if the team you want to back is winning, the odds for the same bet will be much lower.
Fluctuating odds are one of the trade-offs you have to accept when you bet on live events. However, if you are an experienced punter, you can quickly turn that into an advantage. You can bet on teams you know will turn things around and get significantly higher odds than you would have got in the pregame betting markets.
Mobile Betting Options at New Bookies
One of the perks of playing with new bookies is mobile betting. The best new wagering providers have some of the best betting apps. These come with increased functionality compared to their desktop counterparts and make betting a breeze.
The most obvious perk of mobile betting is placing your wagers on the go. Being able to bet from anywhere at any time is something that we take for granted these days, but it would have never been possible without mobile wagering apps. Some of the other benefits of mobile betting include:
Easy navigation between betting events
Increased bonus options
More payment methods
Easier to contact customer support
When you bet on your mobile device, you can easily navigate between different betting menus, get additional banking options, and contact customer support with only a couple of touches on your screen.
You can also get unique bonus offers like free wagers when you refer a friend to download and install the betting app. You won't be able to enjoy this perk if you bet using a desktop or laptop.
Conclusion
Top rated bookmakers come with tons of perks compared to their more established counterparts. They might lack the performance history that experienced betting providers have, but new bookies make up for this by offering top-quality bonuses and a wide range of bet types.
At Betpack, we review and list the best among these new wagering operators. Our experts have analyzed these sports betting websites in detail, meaning they have saved you lots of time that you would have otherwise spent searching. Now, all you need to do is choose youral new wagering site and start enjoying these benefits firsthand.
Frequently Asked Questions
What makes an online betting site the best?
The best online betting provider has several things that make it different from its competitors. It has a comprehensive selection of sports, events, and markets. It also boasts bonuses ranging from welcome promos to free bets and ACCA boosts. Lastly, the best betting site has a variety of banking options and responsive 24/7 customer support.
What is the best online betting site in the UK?
The best UK betting site is licensed and regulated by the UK Gambling Commission. This betting also has a competitive sports betting offer, lots of bonuses, a wide range of payment methods, and excellent customer support.
Are there betting sites that give you a free bet?
There are a lot of betting providers that give you free bet promos. To find the best free bet sites, look for providers that allow you to withdraw your free bet winnings and let you use them on single and accumulator wagers.