Ad Disclosure:
Betpack is an affiliate website. We may earn commission if you register to a bookmaker via links on our platform. Learn
more information
and please gamble responsibly
Best Sports Betting Sites Bulgaria 2023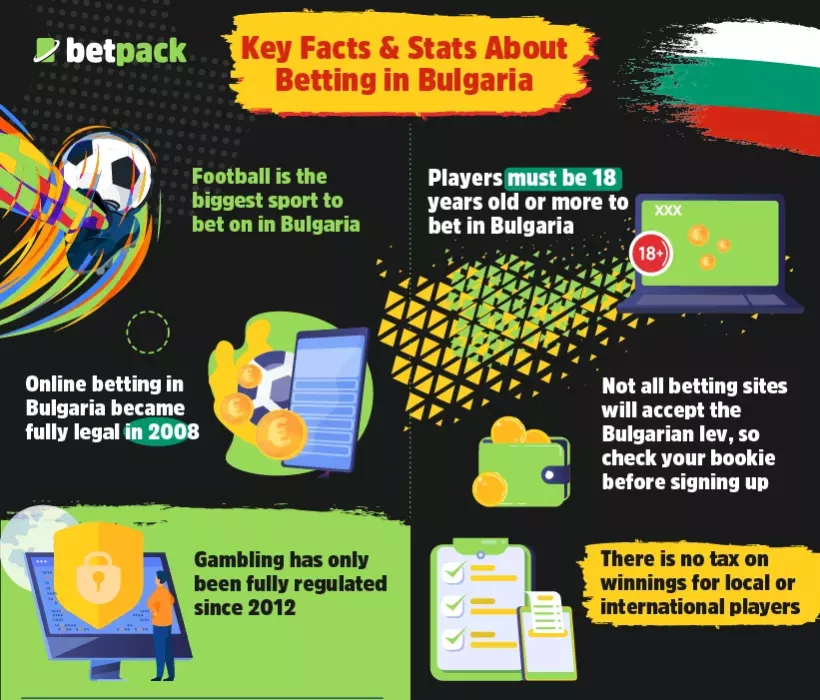 How to Pick the Best Bulgarian Bookmaker
When it comes to finding the best bookies in Bulgaria, you need to ensure that you are signing up with the finest the country has to offer. A top sports betting site will offer you a range of features that have become a must in modern-day betting.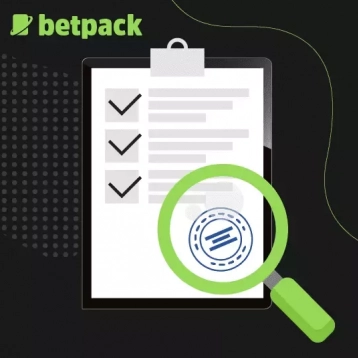 Step 1
Check Licence & Safety
First of all, and perhaps most important is the license and safety of the betting sites you might join. The best betting sites in Bulgaria and any other country will have a license to show their customers that they are safe and legal to play with while also showing that they are regulated by the relevant authority. This is true whether you play at Bulgarian betting sites or any other bookie.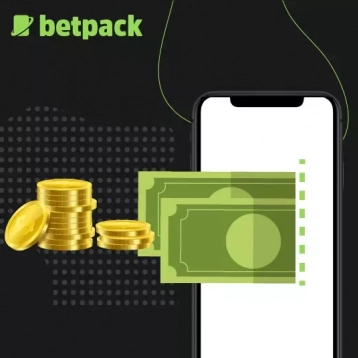 Step 2
Find The Most Suitable Payment Method for You
You also need to ensure that they have a range of payment methods for you to use. This is important as who handles your hard-earned cash matters. The safer and more reputable the payment method, the better.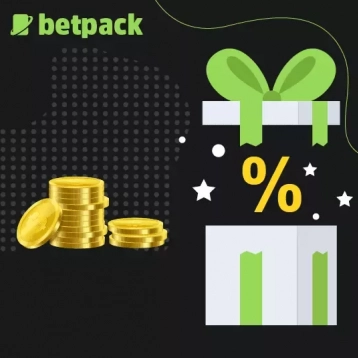 Step 3
Check out The Bonuses
While we will go into this in greater detail later, you also need to keep an eye on welcome bonuses, existing customer offers, the range of sports and markets, competitive odds, features and more, to name a few. The finest Bulgarian betting sites in the country will usually provide a few, if not all, of the aforementioned features.
Best Free Bets & Betting Offers in Bulgaria
| Bookmaker | Offer |
| --- | --- |
| Freshbet | 100% up to £500 |
| Sportsbet.io | 10% Cashback |
| MyStake | 100% up to €100 |
| LeoVegas | €100 Free Bet |
| Cyber.bet | 100% up to €200 |
Gambling licences are awarded by the Bulgarian National Revenue Agency, which replaced the State Commission on Gambling. They are the new licensing and regulatory agency for Bulgaria.

Online gambling in Bulgaria has been legal since 2008 but has actually only been properly regulated since 2012. Like all other betting sites in countries across the world, betting sites from Bulgaria must obtain a license to operate legally.

Be sure that whichever betting site from Bulgaria that you wager with they have the relevant licensing from the Bulgarian National Revenue Agency. This shows you that the bookie is regulated and licensed correctly, meaning they are safe to use and provide you with a trustworthy and fair product to enjoy.
A welcome offer is a customer's chance to really enhance the amount they have in their playing pot. Betting sites will offer their customers a welcome offer to try to incentivise them to sign up with that bookmaker over another.

You will almost always have to sign up with a bookie before depositing and betting a certain amount of money to unlock the free bet. These welcome offers will come in a few different forms, and we will go over a few of the more popular welcome offers, promotions and free bets below.
A promotion is something that a bookie will offer to their customers. This could come in the form of a new customer offer, which is strictly for those that are signing up for the first time with a bookie, and existing customer offers for those that have been loyal customers.

A bookmaker will usually offer new customers free bets or a matched deposit. A free bet is a welcome bonus that has become incredibly popular in recent years. If you want to get involved with this, you will usually have to sign up with a bookie and learn how to deposit in a certain way with the gambling site to unlock a specific amount.

For example, the gambling site might offer you 'Bet £10, Get £10'. This means that you need to deposit £10, and then the online sports betting site will credit your account with £10 in free bet credits. This is the most straightforward new customer offer.

Another very popular new customer offer is the matched deposit. This is one of a number of popular offers as it offers good value. You may get an offer like '100% up to £100'. This means that online betting sites will match your deposit up to a certain amount. Therefore, if you deposit £20, then the gambling site will credit you with £20 in free bets. This is true all the way up to £100 in this instance.

There are a few other offers that betting sites will offer, including cash back, Acca insurance, Acca boosts, odds boosts, casino spins, casino offers and many more. Your job is to work out which betting offer is right for you.
When it comes to signing up with a bookie, you have to ensure that they offer you the sports you want to wager on for both pre-game and live betting. Betting on only one sport may seem like a good idea when you sign up with a bookie, but if you get bored with betting on that sport, you will be left with very limited options to wager on.

You should therefore do your best to find online betting sites that provide some of the most diverse range of sports. Some of the more experienced bettors will have a small collection of sports that they like to bet on. However, as a new bettor, we would recommend that you work through some of the lists of sports a site offers to work out what you like to wager on and what isn't for you.

It can also really help to break things up by finding more novelty sports on the list of what your bookie offers. Many betting sites will provide odds for TV shows, politics, chess and more.
One of the biggest mistakes new bettors make is that they do not bet at the highest odds available to them. While this may not seem like a big deal on each individual bet, it can quickly add up, especially if you win fairly often.

For example, if you bet at slightly shorter odds in 50 bets and you win 30 of them, your actual winnings will be far less than your potential winnings with longer odds.

When trying to find value, you are looking for one thing. You need to ensure that you are wagering on a bet where the chances of an outcome are better than what the odds actually reflect.

When you combine betting on the highest possible odds with value bets, you will swell your chances of making a larger profit from your wagers.
Payment methods are key when it comes to signing up with a new betting site, whether in Bulgaria or anywhere else.

The most common payment methods include Credit Cards, Debit Cards and a number of different e-wallets. When you come to betting in Bulgaria, ensure there are a number of payment methods that you feel comfortable using.

After all, there is no point in doing all of the research into working out if a bookie is safe and worth using only to find that they do not offer a betting site you have an account with. Worse still, a dodgy bookmaker may ask you to create an account with a payment method you have never heard of. This can be dangerous as you are putting your details in the hands of sites you have never heard of.

It is, therefore, of paramount importance to ensure that you only sign up with a bookie that offers payment methods that you already have an account with or know to be trustworthy.
The top betting sites will only be as good as the best features that they offer. Many bettors will only sign up with different betting sites based on the features they offer.

You will usually need to look out for industry-standard features like a live betting console, which allows you to wager on a sport or match while it is in play. Alongside this, you can enjoy live streaming, bet builders, mobile apps, helpful customer support, a range of offers and promotions and more.

The overall user experience on a site that offers fewer features will be far worse than a site that offers a number of features. Always ensure that, at the very least, you have a number of the features you deem to be the most important.
Bulgarian Bookmaker Rankings by Category
| Category | Bookmaker |
| --- | --- |
| Best Welcome Bonus | FreshBet |
| Best Odds | Cyber.bet |
| Best Betting Markets | LeoVegas |
| Best Features | Betsson |
| Best Design & Usability | Sportsbet.io |
Best Bulgarian Betting Sites for Sports
| Sport | Bookmaker |
| --- | --- |
| Best for Football | LeoVegas |
| Best for Basketball | Freshbet |
| Best for Tennis | Sportsbet.io |
| Best for Boxing | MyStake |
| Best Overall for Sports | LeoVegas |
Most Trusted Betting Sites in Bulgaria by Betpack
| Rank | Bookmaker |
| --- | --- |
| #1 | FreshBet |
| #2 | LeoVegas |
| #3 | Betsson |
| #4 | LV Bet |
| #5 | Rizk |
Frequently Asked Questions
What Betting Apps Work in Bulgaria?
There are a number of major betting apps that will allow you to enjoy betting in Bulgaria to the fullest extent. To find out which apps are available to your in Bulgaria, simply head over to our page showcasing all of the best betting apps in Bulgaria.
What are the Most Popular Sports to Bet on in Bulgaria?
Bulgaria is very similar to many other countries in the sense that online bookmakers in Bulgaria will see a lot of betting activity on football, volleyball, tennis, boxing, athletics and different winter sports. While all of these sports rank among the best in the country at most top sports betting sites, football is seen as the biggest and most popular sport to wager on.
How to Claim a Free Bet from a Bulgarian Bookmaker?
To claim a free bet with a Bulgarian bookie, you simply need to sign up and create an account by filling out the sign-up form. Next, deposit/bet however much the bookie stipulates to unlock your free bet. This is a simple process that should not take long at all.
Is There a Tax on Sports Betting Winnings in Bulgaria?
If you bet in Bulgaria, you may have heard of a 15% tax. Fortunately, this only applied to the betting companies in Bulgaria, with this subsequently amended. This means that you do not need to pay any taxes on winnings. The only ones that need to worry about tax in this sense is the betting companies in Bulgaria.
Is Sports Betting Legal in Bulgaria?
Yes, sports betting is legal in Bulgaria. This means that you can enjoy all of the fun of gambling in Bulgaria on many of the biggest sports as well as more niche events. With sports betting legal in Bulgaria, the demand for bookmakers and markets has exploded.