Tennis Betting
Only a few things can beat the excitement of wagering on a very competitive tennis match. For some, placing the winning bet is as thrilling as winning the first grand slam title for a player. Here, we don't share anything different. And therefore, we collected every piece of information for those who want to make the most of their bets.
Ad Disclosure: Betpack is an affiliate website. We may earn commission if you register to a bookmaker via links on our platform. Learn more information and please gamble responsibly.
Best Picks from Our Tipsters
VALUE BETS WITH GOOD ODDS
How to Bet on Tennis
Tennis betting is just as easy as football betting, horse racing betting, or basketball betting. Once you find a decent sportsbook with tennis markets, the rest of the process is simple.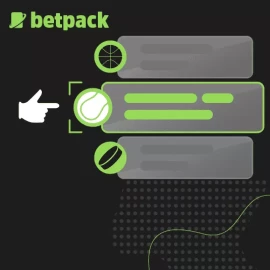 Step 1
Find a Reliable Sportsbook with Tennis Markets
Reliable tennis wagering sites are licensed and regulated by trusted authorities such as the UK Gambling Commission and the Malta Gaming Authority. They also cover many tennis markets and offer free bets. The easiest way to find one is to choose from our list on this page.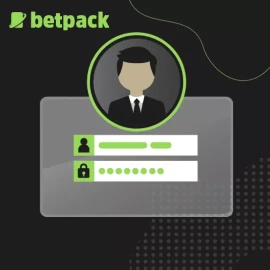 Step 2
Create an Online Sports Betting Account
Bookmakers will want you to sign up for an account and verify your identity before allowing you to play for real money. The required details may include your name, email address, physical address, and phone number. By signing up, you get a chance to claim free bets and other offers.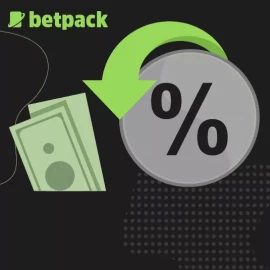 Step 3
Make a Deposit and Grab a Bonus
The betting sites we recommend here will issue free bet bonuses and other promotions if you deposit. Log in to your betting account and choose a deposit method in the Cashier area. Once you deposit, look for the sportsbook welcome bonus or free bet deals and claim them.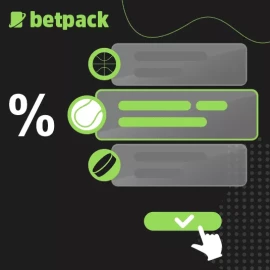 Step 4
Bet on Tennis and Enjoy Your Winnings
Browse through the sportsbook to find your preferred tennis markets and events. Choose your bet amount and fill out the bet slip as you like. In case your predictions are right, go back to the Cashier page and withdraw your winnings. Done!
Tennis Betting Rules
If you've watched horse racing events, football matches, and other sports, you know that many things can happen during a match and cause confusion among bettors. In tennis, things like the weather, injuries, and disqualifications may leave you worried. That's why you need to understand the following basic tennis match betting rules.
Walkover – If a player wins because the opponent is unable to play, all bets are called off.
Disruptions – Tennis bets usually remain unsettled due to match disruptions caused by the weather, postponement, darkness, or technical problems.
Retirement from the match – Bookmakers can take different decisions if a player decides to retire from a tennis match. Your bet may remain valid if the first serve is played or after completing 1 set or 2 sets.
The last rule states that the entire match must reach a natural conclusion for the bet to be valid. Thus all bets are voided if a player retires.
Popular Tennis Bets
As mentioned earlier, tennis punters have access to various tennis markets. By joining our top tennis betting sites, you should be able to place the following types of bets.
Moneyline/Outright Winner Markets – Betting on the tournament winner.
Match Betting – Wagering on the winner of a particular tennis match.
Over/Under Betting – Predict whether the match will have more or less than a predefined number of set or game totals.
Set Betting – Betting on how many sets a player will win.
Handicap Betting – Predict a player's performance where one player gets a handicap of a specific number of games or sets.
Correct Score – Bet on the exact score in a match and the margin of victory.
In-Play Betting – In-play betting involves wagering after a tennis tournament or match hasd. For instance, you could bet on whether the game will go to deuce.
Besides the above bets, tennis bettors can still place other bet types. These include betting on tennis tournaments that will happen in the future or utilizing tennis accumulators.
Bet on Grand Slam
The Grand Slam features the four major tournaments in the world. The four Grand Slams we are talking about include the Australian Open, Wimbledon, the French Open, and the US Open.
These tournaments always attract the most popular tennis players like Rafael Nadal, Novak Djokovic, Roger Federer, and the British tennis player Andy Murray.
Davis Cup Betting
The Davis Cup is also known as the World Cup of men's Tennis. Run by the International Tennis Federation, the event gives punters a chance to bet on which country will win the Davis Cup Final. You can also wager on the outcomes of fixtures and individual matches.
Australian Open
The Australian Open happens at Melbourne Park in January, making it the first of the four Grand Slams that take place annually. Top-rated tennis wagering sites will let you bet on women's and men's tennis matches associated with the event. Without a doubt, betting on the Australian Open is the best way to begin your year as a tennis fan.
Wimbledon Betting
Wimbledon (The Championships) is the world's oldest event in tennis tournaments history. It takes place outdoors at the All England Club, where players can participate in singles, doubles, and mixed doubles. As with other Grant Slam events, the tournament offers plenty of betting options.
French Open
The French Open (Roland-Garros) takes place in Paris at the Stade Roland-Garros. It's the world's premier clay court tennis tournament and the second Grand Slam tournament. Featuring singles, doubles, and mixed doubles, the French Open is one of the best tennis events to place bets on.
US Open
The US Open is America's hardcourt tennis tournament that happens towards the end of August and at the beginning of September. It features five championships involving singles, doubles, and mixed doubles. It also includes events for junior, senior, and wheelchair players. The good news is that sports bettors can wager on the US Open events at our sportsbooks.
Bet on Other Tennis Tournaments
The above-mentioned tennis tournaments are not the only betting options you have. You can wager on other popular tennis tournaments such as the Summer Olympic games and the BNP Paribas Open. However, be sure to choose a good bookie as only the best private bookmakers provide a wide range of betting markets on other tournaments.
Tennis Betting Guides
We have prepared all the guides you need to up your game as a sports bettor. In our guides section, you will find information on how to wager on tennis and some useful improvement tips. You should make the most of this information, especially if you are new to tennis match betting.
Live Betting on Tennis
The best tennis betting sites have live betting options. With live betting, punters can bet on tennis as they watch live streams. There's no better way to enjoy sports betting than that. If that's what you want, make sure the selected bookmaker allows you to watch live streams.
Online Tennis Betting vs. Offline Tennis Betting
Even though online betting is a quick option for most tennis enthusiasts, some punters still want to bet offline. The following table compares both betting options. 
Online Betting
Online betting is convenient and cheap
There are lots of online tennis wagering sites
No distractions because you can bet alone
May not be as entertaining as attending live
Offline Betting
Not convenient if you have to travel
Not as many bookmakers as online bookies
There are many distractions
Punters enjoy a real-time experience
Conclusion
If you love tennis betting, nothing should stop you from wagering on the sport because you have many options. Have a look at our recommended tennis betting bookmakers and join now to place all types of tennis bets. You might get a free bet bonus besides other promotions.
Frequently Asked Questions
Is it complicated to bet on tennis?
Despite the fact that there are various elements to consider while betting on tennis, if you know the main markets and are aware of the tennis world, it shouldn't be complicated for you.
What Happens to My Bet if a Tennis Match is Postponed?
Usually, the bet remains unsettled until the match resumes.
What are the Most Popular Tennis Tournaments to Bet on?
You can wager on major tennis tournaments like the Wimbledon, French Open, US Open, and Australian Open.