Betpack »
Best Betting Sites in Portugal
Best Betting Sites in Portugal
Online sports betting is legal in Portugal, and we have the best Portuguese betting sites right here. Keep reading to learn more about sports betting laws and get key facts about wagering in Portugal. We also tell you about the most popular payment methods at Portuguese bookmakers and help you pick the best betting site in Portugal for you. Let's start!

Ad Disclosure: Betpack is an affiliate website. We may earn comission if you register to a bookmaker via links on our platform. Learn more information and please gamble responsibly.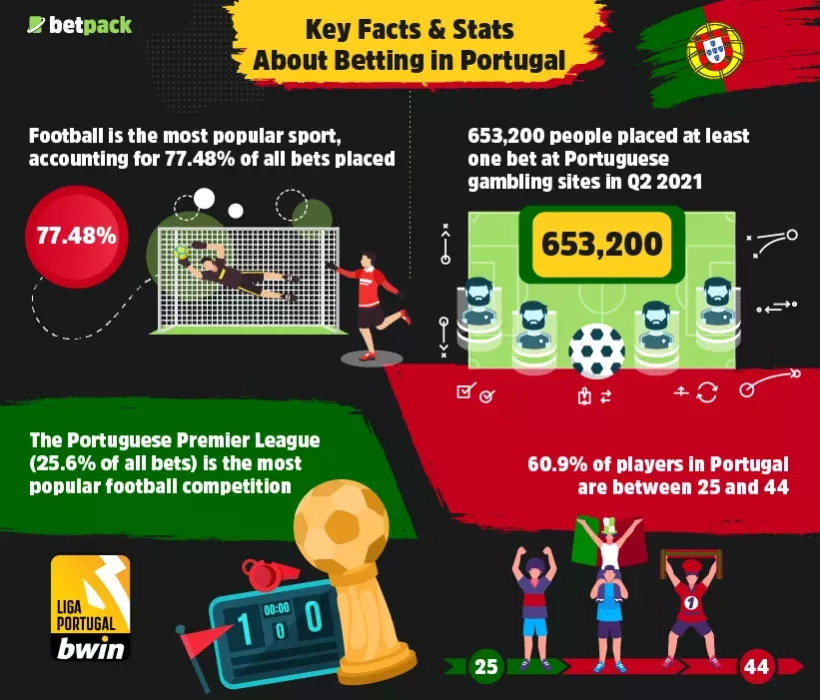 How to Pick the Best Portuguese Bookmaker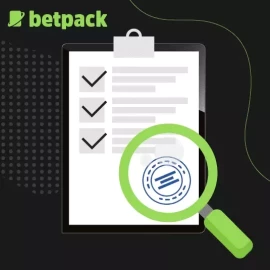 Step 1
Analyze the Betting License
You want to play at a betting site with a valid licence from a reputable regulator. To check this, scroll to the bottom of the site. Next, compare the licence number with the information the regulator has on its website. Make sure everything checks out.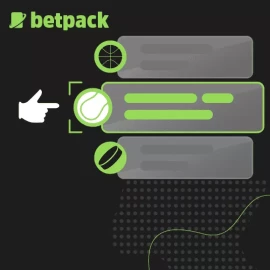 Step 2
Check Sports Markets
A Portuguese bookmaker is only as good as the sports and markets it offers. So, the betting site you pick must have as many sports and betting options as possible. Ideally, look for Portuguese betting sites with forty or more sports and hundreds of markets for each event.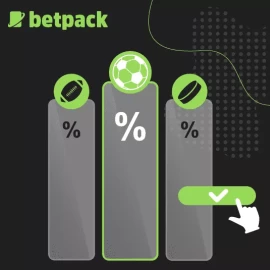 Step 3
Compare Odds
The best bookmakers in Portugal work with minimal odds margins. Your goal is to find them, as minimal margins mean great odds. You can do this yourself and compare the odds of different sportsbooks. Alternatively, you can read our reviews and get all your odds info there.
Step 4
Look at Payment Methods
A top betting site will let you deposit and withdraw using a wide range of payment methods. They will usually have player-friendly limits. So, before picking a bookie in Portugal, analyse its banking options. We give payment methods a really close look in our sportsbook reviews too.
Free Bets & Betting Offers in Portugal
| Bookmaker | Offer |
| --- | --- |
| PlanetaXbet | 100% up to €500 |
| FreshBet | 100% up to £500 |
| Jeetcity | 50% up to €400 |
| BetAndYou | 100% up to €143 |
| Sportsbet.io | 10% Cashback |
Bookmaker
PlanetaXbet
Offer
100% up to €500
Bookmaker
FreshBet
Offer
100% up to £500
Bookmaker
Jeetcity
Offer
50% up to €400
Bookmaker
BetAndYou
Offer
100% up to €143
Bookmaker
Sportsbet.io
Offer
10% Cashback
Sports betting sites in Portugal have some of the best bonuses in the industry. These range from enticing free bets and welcome bonuses to reload deposit promos, cashback bonuses, and boosted odds offers. The best sports betting sites in Portugal have it all. Let's look at the most lucrative betting bonuses and how you can claim them.
Free Bets
If you are a seasoned bettor, you must love free bets. You wager with the bookmaker's money, and if you win, you get to keep your winnings. The great thing about online betting in Portugal is that you will get your fair share of free wagers, especially with some of the best bookmakers we feature at BetPack.
As the name implies, with free bets, you wager for free with the sportsbook's funds. However, we are not going to lie to you; there are usually some requirements you need to complete too.
Most of the time, you will need to make a minimum deposit, bet at some minimum odds, and include a predetermined number of selections in your bet slip to qualify for the free bet promo. You might also need to roll over your initial deposit amount a couple of times to get the free bet.
After the sportsbook credits the free bet to your online betting account, you also need to meet a few conditions, similar to the ones you already completed. That means you might once again need to meet the minimum odds and leg requirements, as well as complete your wagering.
As soon as you achieve that, you will be able to withdraw your free bet winnings. However, bear in mind that most of the time your winnings won't include the free bet stake you get from the bookie.
Risk-Free Bets
Betting enthusiasts who want to place long-shot wagers will enjoy risk-free bet promotions. With risk-free bets, you place a wager, and if it loses, you get your stake back. If it wins, you collect your winnings. That way, you profit from betting on some of the most enticing odds out there while having a safety net in case your bets lose.
Let's explain how this works. Let's say the online betting site in Portugal you picked has a 100% risk-free bet promo of up to €50. That means that if you place a €40 qualifying bet and it loses, the online betting site will give you €40 in free bet credits back. You can later use those free bet credits to place a new bet or bets at the bookmaker. As we said, if your bet is a winning one, the promo is not activated, and you collect your winnings instead. Pretty cool, right?
Sign-Up Offers
One of the great things about betting online in Portugal is that you get enticing welcome offers. Most of the bookmakers we list have a welcome bonus. Moreover, sign-up offers are among the most lucrative bonuses in the industry, so you will get your fair share of rewards and treats when opening a new betting account. Go with some of the best betting sites we feature at BetPack, and you will get even more than that.
Reload Deposit Bonuses
The best Portuguese betting sites reward you when you make your first deposit. That's the welcome bonus. However, they also give you bonus credits when you top up your betting balance. That's a reload deposit bonus.
Bookmakers offer these deposit promos on special occasions. For example, a bookie might give you a reload bonus if there's a World Cup going on. You might also get reload deposit bonuses when the new Portuguese football season kicks off, during the Christmas holidays, or on some other occasion.
And while reload bonuses are not as lucrative as welcome offers, they are a great way to get some betting credits as an existing player and to bet online in Portugal with the bookmaker's funds.
Cashback
Cashback is one of the most underrated promos at betting sites in Portugal. Punters get so much with this bonus offer, but they rarely pay much attention to it.
With cashback promos, the bookie gives you some of the money you lost. For instance, if the sports betting site has a 10% monthly cashback bonus, it will reimburse 10% of your monthly losses on qualifying bets. If you lose €500, you will get €50 back (usually in the form of a free bet or bonus credits).
However, as we mentioned, please note that your bets will likely need to be qualifying ones for your losing bet stakes to be considered for cashback.
That means you will need to place your bets at minimum odds and with a predetermined number of picks on your bet slip. There might be some betting market requirements too. If your wagers check all those boxes, they will qualify for cashback.
Enhanced Odds
If you play at the best betting sites in Portugal, you will likely get the most enticing odds too. However, you can improve even the best odds by going for enhanced odds promos.
With these boosted odds bonuses, you benefit from lower sportsbook margins and higher odds. Often, bookies will give you odds that are so high, they come without any margins at all. Of course, this is only true when you are betting on the markets included in these bonuses.
Bear in mind, though, that the number of boosted-odds selections you can include in your bet slip is limited. In fact, chances are you will be able to include only one selection from the list of matches included in this promo.
ACCA Insurance
If you are someone who places accumulator bets, you will love ACCA Insurance promos. These bonuses are really easy to understand. In essence, you place an accumulator bet consisting of several selections, as you normally do. If one of those picks lets you down, the bookie returns your bet stake. For example, if you have five selections in your bet slip and four of them come to fruition but one doesn't, you get your money back in the form of bonus credits.
However, as with most promos on our list of Portugal bonuses, you need to make sure you have a qualifying accumulator bet first. Most of the time, a qualifying ACCA bet consists of a predetermined number of selections placed at the minimum odds the bookie stipulates. For instance, to qualify for an ACCA Insurance bonus, you might need to include a minimum of three legs in your bet slip, and each must be at odds of 1.3 or higher.
ACCA Boosts
ACCA boosts allow you to benefit from the number of selections you put on your bet slip. The more betting picks, the higher your winnings will be. For instance, the online betting site might have a promo where it increases your combo winnings by a predetermined percentage for each additional selection you make:
As you can see, with each new selection you include in your accumulator, your potential winnings increase. In our example, the list ends with 8 selections and a 20% boost. However, it is not unheard of for Portuguese online betting sites to increase your winnings by 100% and even 200% if you include tonnes of legs in your accumulator bets.
How We Compare and Rank Betting Sites in Portugal
At BetPack, we believe you deserve the best betting sites in Portugal. So, we do everything to find them. We spend time and resources analyzing, playing at, and reviewing Portuguese betting sites. That way, you can be sure that we have already examined a bookie for you, and have done that in the greatest of detail. These are the factors we focus on.
A licence is crucial if you want to wager without problems. A licence is also critical when problems do occur. Even if you encounter an issue with the bookie you pick, the licence is a guarantee that the regulators will have your back in a dispute.
The best betting sites have enticing welcome bonus offers for their new players. But not all welcome bonuses are worth your time and money. We check each sign-up offer to make sure it will reward your efforts and be easy to claim too.
3
Promotions and Free Bets
Free bets, reload deposit bonuses, cashback, and enhanced odds promos are all extremely important. That goes double when you are an existing player that has used up the welcome bonus. So, we want the bookies we review to have as many of these offers as possible.
As bettors ourselves, we want a top-notch sports betting experience wherever we play. A key element in that is the sportsbook offering that bookies give us. The betting sites we list must have a wide range of sports and markets. And the more betting options, the better we rank them.
We always analyse the odds of Portuguese betting sites and compare them to their peers and industry rivals. We give top marks to bookies that work with minimal odds margins. If a sportsbook incorporates an unfair house edge into its odds, we don't even rank it.
The selection of payment methods is crucial for the quality of your Portuguese betting adventure. So, we want betting sites to have a really comprehensive banking section. It must include everything from credit/debit cards and fast bank transfers to e-wallets and cryptocurrencies.
The best sportsbooks have great features that make your sports betting experience twice as exciting. We look favourably on bookmakers that give you these betting features, as we know how helpful things like bet builders, live streaming, and bet-sharing options can be to bettors.
Top Portuguese Betting Sites by Category
| Category | Bookmaker |
| --- | --- |
| Best Welcome Bonus | FreshBet |
| Best Odds | PlanetaXbet |
| Best Betting Markets | Sportsbet.io |
| Best Features | LeoVegas |
| Best Design & Usability | Sportaza |
Category
Best Welcome Bonus
Bookmaker
FreshBet
Category
Best Odds
Bookmaker
PlanetaXbet
Category
Best Betting Markets
Bookmaker
Sportsbet.io
Category
Best Features
Bookmaker
LeoVegas
Category
Best Design & Usability
Bookmaker
Sportaza
Popular Payment Methods for Portuguese Betting Sites
Betting enthusiasts who join Portuguese betting sites can choose from all the most popular payment methods. These include banking options you are already familiar with. However, there are also payment systems that are predominantly used by professional bettors. Read on to learn more about the banking options you will encounter at betting sites in Portugal, as well as their advantages and disadvantages.
Credit/Debit Cards
You can deposit and withdraw your winnings at most betting sites in Portugal using Visa and MasterCard credit/debit cards. And that's one of the great things about cards: being able to deposit and withdraw with the same payment method.
Another advantage of using banking cards in Portugal is that they trigger the majority of welcome bonus offers out there. We are yet to see a sign-up offer that won't unlock when you deposit using credit/debit cards.
On the other hand, banking cards are not perfect and do come with a couple of disadvantages. The first one is that you must enter tonnes of sensitive banking information to initiate a deposit or withdrawal. And, as common as Visa and Mastercard payments are these days, not everyone is happy to disclose key financial information online.
Another drawback of using banking cards in Portugal is that your withdrawal requests will take quite a lot of time to be processed. It takes anywhere between 2 and 7 business days for credit/debit card withdrawal requests to be completed, and that's quite a lot of time in a fast-paced betting industry.
E-Wallets
There are a lot of e-wallets you can use when you play at betting sites that accept players. These include Neteller, Skrill, MuchBetter, PayPal, etc. With these digital wallets, your deposits are instant. Often, your withdrawals will be processed immediately and no later than 24 hours.
Another perk of using e-wallets is the complete security of your banking information. With e-wallets, you never reveal more information than your email address. No card numbers and no CVC codes are required.
However, there are two sides to e-wallet payments too. One of the most problematic aspects of wallets like Neteller and Skrill is that they won't activate most of the welcome bonuses out there. Believe it or not, even though bettors love these two payment methods, they don't usually trigger sign-up offers. That is the case with a couple of other e-wallets too.
Therefore, always read the welcome bonus terms and conditions before making your e-wallet deposit. If the payment system is on the list of excluded banking options, it might be best to go with an alternative method, at least for that first deposit.
Prepaid Cards
Prepaid cards such as Paysafecard are another option when you bet online in Portugal. However, they are rarely the first choice for bettors.
One reason why that's the case is that you cannot make larger deposits or account top-ups. Prepaid cards come in predetermined denominations, such as €10, €25, and €50. If you want to have more flexibility with your deposits, you will have to pick up another prepaid card. It's easy to see why gamblers avoid this method of payment.
Another drawback of using prepaid cards at sports betting sites in Portugal is that you cannot withdraw your winnings with them. Some card providers, like Paysafecard, allow you to open an online account in essence, an e-wallet, and then withdraw your betting windfall that way. However, obviously, that's not a prepaid card.
On the plus side, prepaid cards are completely anonymous. Other than the one-time prepaid card PIN you enter before depositing, you don't leave any information behind. And that's great if you are a super-cautious bettor.
Bank Transfers
Bank transfers will always be an option at online sports betting sites, and Portuguese bookmakers are no exception. There are many innovative payment systems that work with sportsbooks in Portugal, such as Trustly, which are, in essence, bank transfers.
Bank transfer payment methods let you deposit and withdraw. That means a bank transfer deposit method always doubles as a payout option, and you don't have to go for an alternative banking system for your withdrawals.
Another advantage of going with bank transfers is the security you get. Bank transfers are super-secure, and even when things go wrong, you can sleep easy knowing there are a number of ways to get your funds back. If you type in the wrong banking information, for instance, a bank transfer won't go ahead, and the money will stay in or return to your bank account.
When it comes to drawbacks, the biggest disadvantage to wagering with the help of bank transfers is speed. That's especially true when you don't use a modern payment system to speed up your deposits and withdrawals. Traditional bank transfers take days or even weeks to complete, and that's far fromal when you want to benefit from your betting profits.
Cryptocurrencies
Cryptocurrencies such as Bitcoin, Ethereum, and Litecoin are often options at sports betting sites in Portugal. The country was one of the first to open up to crypto payments, and the betting providers that operate in Portugal follow in its footsteps.
Cryptocurrency payments facilitate instant deposits and withdrawals. As with e-wallets, these fast sportsbook payments areal if you are a punter looking to bet on the best sports events without wasting a second of your time.
Another advantage of cryptocurrency payments is the security you get. Crypto transactions are virtually unhackable, and you don't leave any sensitive banking information when you initiate them.
As for disadvantages, cryptocurrencies don't have many. Sure, you want to keep your crypto wallet information close to your side to prevent fraudulent individuals from getting their hands on it. However, that's the case with most payment methods out there.
Best Portuguese Betting Sites for Sports
| Sport | Bookmaker |
| --- | --- |
| Best for Football | FreshBet |
| Best for Basketball | Jeetcity |
| Best for Tennis | Sportsbet.io |
| Best for Handball | LeoVegas |
| Best Overall for Sports | PlanetaXbet |
Sport
Best for Football
Bookmaker
FreshBet
Sport
Best for Basketball
Bookmaker
Jeetcity
Sport
Best for Tennis
Bookmaker
Sportsbet.io
Sport
Best for Handball
Bookmaker
LeoVegas
Sport
Best Overall for Sports
Bookmaker
PlanetaXbet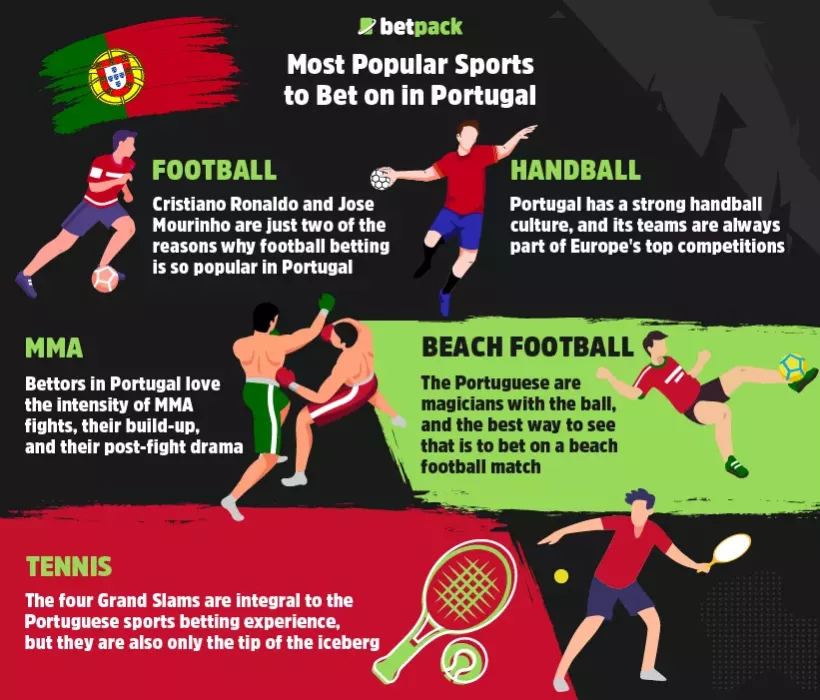 Most Trusted Betting Sites in Portugal by Betpack
| Rank | Bookmaker |
| --- | --- |
| #1 | FreshBet |
| #2 | BetAndYou |
| #3 | LeoVegas |
| #4 | Slotimo |
| #5 | 10bet |
Rank
#1
Bookmaker
FreshBet
Rank
#2
Bookmaker
BetAndYou
Rank
#3
Bookmaker
LeoVegas
Rank
#4
Bookmaker
Slotimo
Betting on sports in Portugal is not just about pre-match and live betting markets. Even though it is really nice if you get them and benefit from some great odds too. No, sports betting in Portugal is also about getting a safe and secure wagering experience. Another experience in which you won't have to worry about is the safety of your deposits or whether you will get your payouts.
And that's where we come in. We give you the most trusted online betting sites in Portugal and don't make any compromises when it comes to security and reliability. All our Portuguese bookmakers work with industry-standard security technology and boast valid licenses. And the best ones? They have everything - state-of-the-art encryption, top-notch markets, and profitable odds. Choose a BetPack trusted site that appeals to you and begin your Portuguese online betting adventure in style.
Conclusion
Online sports betting has been legal in Portugal since 2015. If you still haven't placed your first online bet, you are missing out. But fret not. Because you're a little late to the party, there are plenty of already established sports betting sites waiting for you. And we have the best ones right here.
At BetPack, we analyze, rate, and review online sports betting sites for a living. So, when we tell you that we are quite impressed with the Portuguese betting scene and how it is progressing, you should believe us.
However, not all Portuguese bookies are worth your time and money. You deserve to play at the best sports betting sites in Portugal and get the most rewarding bonus offers, best odds, and top betting markets. And you came to the right place to find them.
Pick one of the licenced and trustworthy betting sites we have here at BetPack and start your Portuguese wagering adventure in style. The enticing promotions you will get and the unique Portuguese betting opportunities will be an added bonus.
Frequently Asked Questions
What Betting Apps Are Available in Portugal?
Betting apps licenced by reputable Portuguese and international regulators work in Portugal. The best Portuguese betting sites we feature at BetPack are available to mobile users and licenced by renowned wagering regulators.
What are the Most Popular Sports to Bet on in Portugal?
The most popular sport to bet on in Portugal is football, hands down. Other popular sports include cycling, handball, MMA, motorsports, tennis, etc.
How to Claim a Free Bet from a Portuguese Bookmaker?
To claim a free bet at a Portuguese sportsbook, first sign up with that bookie. As soon as you do that, make your first deposit and activate the free bet. You should now place a qualifying bet and meet requirements related to minimum odds and selections. When that bet is settled, you get your free wager.
Is There a Tax on Sports Betting Winnings in Portugal?
No, there isn't. One of the great things about playing at sports betting sites in Portugal is that you don't need to worry about tax rates nor pay any taxes on your winnings.
Is Sports Betting Legal in Portugal?
Yes, it is. Sports betting is legal in Portugal, and you can place wagers both at land-based and online bookmakers.