If you have a bank account and want to deposit at sportsbooks without fees, you will love NodaPay betting sites. Noda Pay is an intermediary payment service. It allows you to fund your betting account directly from your bank account or credit/debit card if your bank is part of the NodaPay network. Read on to learn how NodaPay gambling works and find the best betting sites that accept NodaPay.
Pros
Deposit and withdraw with the same payment method.
Safe and secure direct bank payments.
Allows you to trigger bonuses.
No fees.
Cons
NodaPay betting sites can be hard to find.
Withdrawals can be faster.
You have to enter bank details to deposit.
NodaPay's online services could cover more countries.
Ad Disclosure:
Betpack is an affiliate website. We may earn commission if you register to a bookmaker via links on our platform. Learn
more information
and please gamble responsibly
Best Betting Sites that Accept NodaPay 2023
How Do We Find the Best NodaPay Bookmakers?
The best NodaPay betting sites have all the wagering options you need. However, the trick is to find them. At Betpack, we do everything to locate those top-notch bookmakers and betting apps that accept NodaPay. Here's how we do it:
Deposits, Withdrawal Limits and Speed
Noda allows you to make deposits and withdrawals at online betting sites. It facilitates instant deposits and relatively fast withdrawals. So, this is the first test for NodaPay betting sites. Only bookmakers with bettor-friendly transaction limits and speeds are featured on our website.
Eligibility for the Bonuses
The great thing about Noda is that it helps you claim sports betting bonuses and promotions without a problem. So, we look for generous NodaPay gambling sites. The more bonuses you can claim with your Noda payments, the better.
Noda is perfect for bettors because it comes with no fees. If the bookie accepts payments made with Noda, it must be part of the NodaPay network. That means no fees for you. However, betting sites often charge fees. If the fees are unreasonable, we don't list those bookies.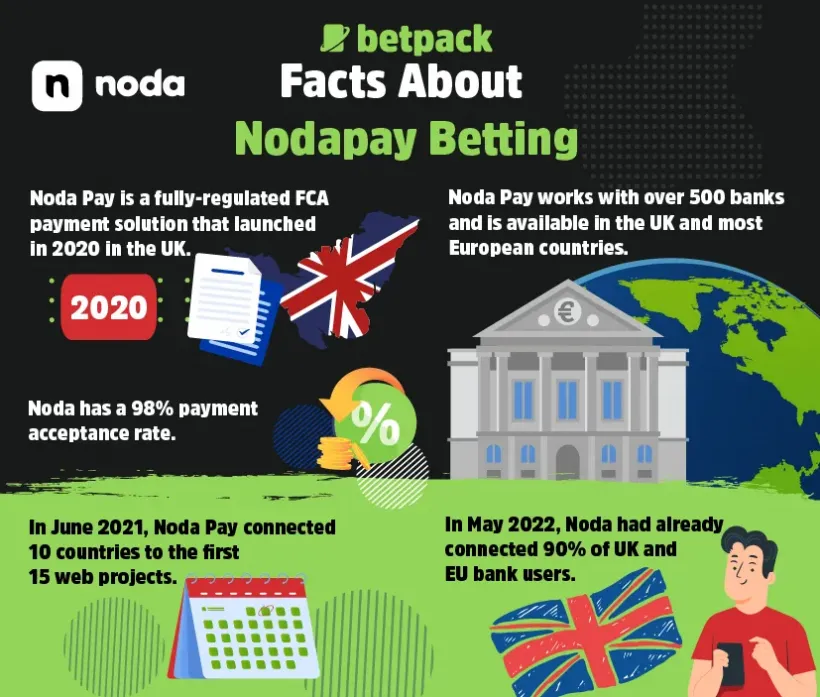 How to Register at NodaPay Betting Sites
There's nothing easier than signing up with the right NodaPay betting sites if you do it with Betpack's help. These are the factors you need to check before opening a betting account with sportsbooks or betting apps that accept NodaPay.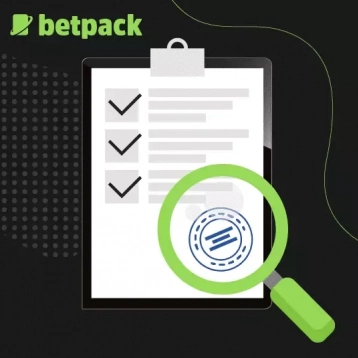 Step 1
Scrutinize License Info
First, see if the bookmaker has a valid licence from a regulator you can trust. Scroll to the bottom of the page to find licencing info. If it does, compare that information with the information listed on the regulator's site.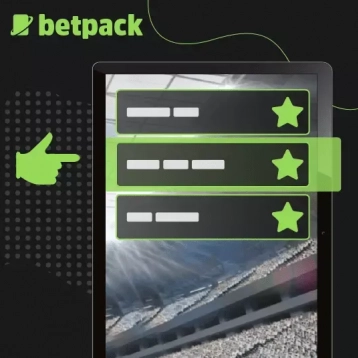 Step 2
Check Bonuses
Next, analyse the bonuses the bookie offers. See if there is an enticing welcome bonus that you can trigger with your first Noda deposit. Also, check if there are bonuses for existing customers, such as reload bonuses, free bets, and cashback promos.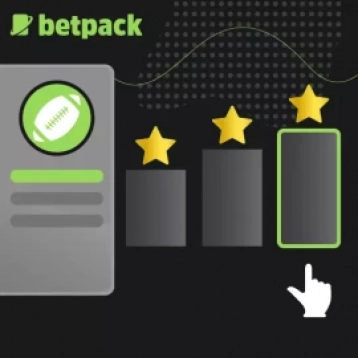 Step 3
Analyze Sports Markets
Now, go through the betting markets on offer. The bookie must give you a large collection of sports, from football and tennis to horse racing and volleyball. Scan the pre-match and in-play betting options and see if they are up to your liking too.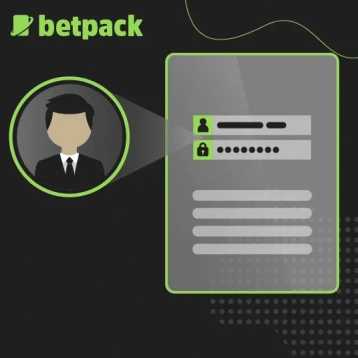 Step 4
Open a Betting Account
The NodaPay gambling site that passes all your tests is a good option for your next betting adventure. To open an account with it, click on the Sign-Up button and follow the prompts.
NodaPay vs LuxonPay Sportsbooks
At Betpack, we analyse a wide range of payment methods and sportsbooks, meaning you are never out of options. Noda and LuxonPay are two of the most popular ones. Let's compare Luxon and NodaPay betting sites and see which is better for you.
NodaPay Sportsbooks
NodaPay facilitates deposits and withdrawals.
NodaPay withdrawals are completed within a few days.
You can claim a wide range of bonuses with Noda.
There are no fees.
LuxonPay Sportsbooks
You can deposit and withdraw using the LuxonPay eWallet.
LuxonPay facilitates same-day payouts.
LuxonPay triggers most sportsbook promotions.
Even though LuxonPay has currency conversion fees, you don't incur costs when you deposit and withdraw at sportsbooks.
Frequently Asked Questions
Is it easy to use NodaPay at bookmakers?
Yes, it is. In fact, you don't even need to open a NodaPay account. If your bank works with NodaPay, you can use the payment method to bet online with no problems.
How long do NodaPay withdrawals take?
NodaPay withdrawals usually take between one and three days to complete.
Is NodaPay safe for betting?
Given that the FCA has fully regulated NodaPay, it is undoubtedly one of the safest payment options available.
Are there any hidden NodaPay fees?
No, and that's the great thing about NodaPay, there are absolutely no fees.
Can I get bonuses if I deposit with NodaPay at bookmakers?
Yes, you can. NodaPay deposits will activate most sportsbook bonuses.