Processing over 50,000 transactions per second, Solana is a super-fast crypto payment method. If you join top Solana betting sites, you can experience these amazing speeds first-hand. You can also get so much more when playing at the best SOL bookmakers. At Betpack, we analyze and examine bookmakers accepting Solana and help you find the best ones. Keep reading to learn more about using the digital currency at Solana sportsbooks.
Company
Solana Foundation
Payment types
Cryptocurrency
Pros
Solana gives you the fastest crypto transactions.
You can deposit and withdraw winnings with it.
The average fee per transaction is only $0.00025.
Solana facilitates secure and anonymous deposits.
Cons
Solana sports betting sites may be harder to find.
Bettors still prefer Bitcoin over newer cryptocurrencies like Solana.
Solana withdrawals are fast, but bookies still take time to process them.
Solana limits are flexible, but so are the limits of other cryptocurrencies.
Ad Disclosure:
Betpack is an affiliate website. We may earn commission if you register to a bookmaker via links on our platform. Learn
more information
and please gamble responsibly
Best Betting Sites that Accept Solana 2023
How Do We Find the Best Solana Bookmakers?
Betpack assists you in locating the best Solana bookmakers instantly. We have a tried-and-tested assessment process that filters out inferior SOL betting sites and helps us find the best Solana bookmakers. These are the factors we examine.
Deposits, Withdrawal Limits and Speed
When examining Solana sports betting sites, we look for bettor-friendly minimal deposit amounts and no max deposit limits. Similarly, we feature SOL betting operators with flexible withdrawal limits. Speed is also high on our list, and we only go with bookies that facilitate instant transactions.
Eligibility for the Bonuses
With SOL deposits, you can unlock a wide range of sports betting bonuses. Therefore, before shortlisting a Solana sportsbook, we make sure it offers a myriad of bonuses and promotions. These should be both enticing and easy to claim.
The average Solana transaction fee is $0.00025. That's as low as transaction costs go. However, we want you to get even more. That's why we only shortlist Solana sports betting sites that charge you no or minimal fees.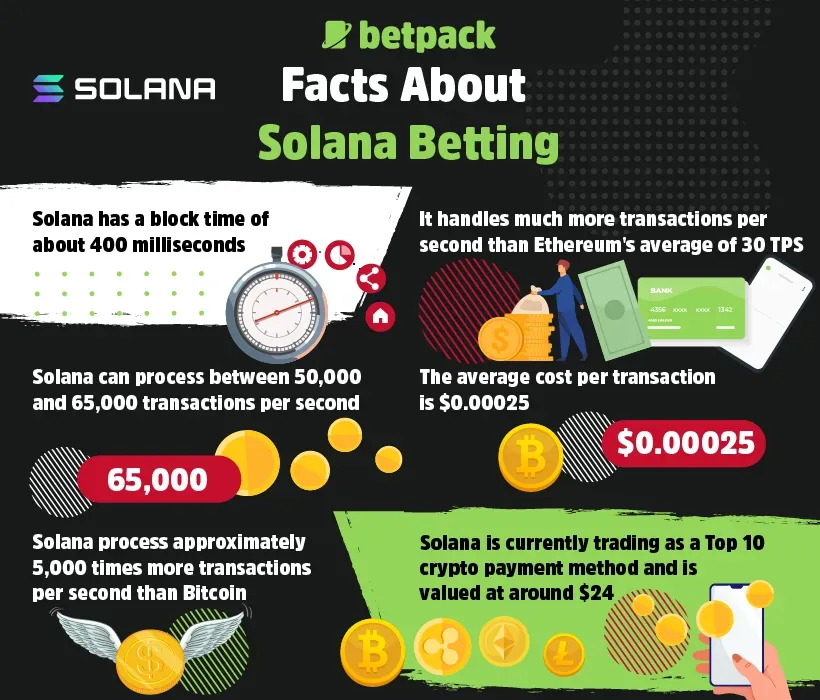 How to Register at Solana Betting Sites
You can register an account with a Solana sports betting site instantly. If that is not something you have done before, fret not. With our guide, you can locate and join the best SOL betting sites in a matter of minutes.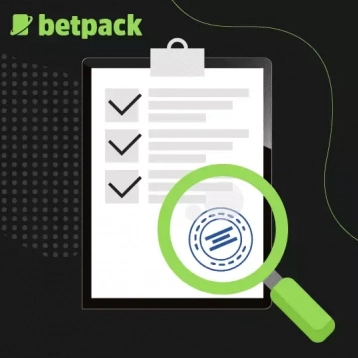 Step 1
Analyze Security
Solana is a secure crypto payment method. The Solana betting site you join should give you the same peace of mind. So, first, check security levels and licences.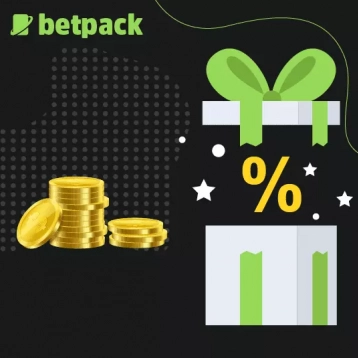 Step 2
Look at Bonuses
Next, examine the bonuses on offer. The best SOL sports betting sites offer a wide range of promos, from deposit bonuses and free bets to VIP program perks.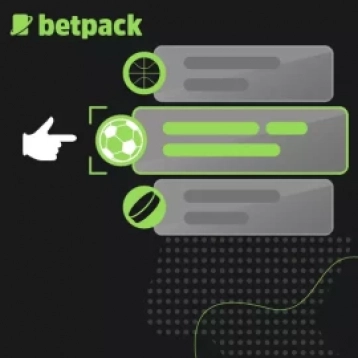 Step 3
Check Sports Betting Markets
Now, inspect sports markets. The bookie should have comprehensive coverage of sports events in both its pre-match and live betting sections.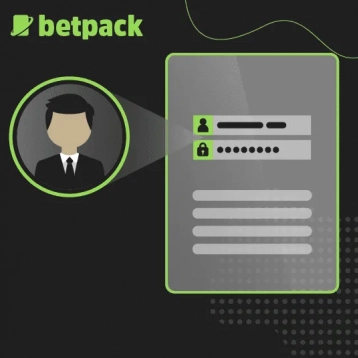 Step 4
Register a Betting Account
Join the SOL betting site that aces all your previous tests. To do this, enter your personal information and verify your new betting account.
Solana vs Bitcoin Sportsbooks
Crypto betting enthusiasts have a lot of wagering options, and Bitcoin and Solana sports betting websites are among their top options. But which of the two crypto-betting platforms is better? Let's find out. Check out our Solana and Bitcoin side-by-side comparison to find out which one is better for you.
Solana Sports Betting Sites
Solana facilitates deposits and withdrawals.
Solana processes over 50,000 transactions per second.
Solana deposits trigger a wide range of bonuses.
Solana betting sites are slightly harder to find.
Solana has among the lowest transaction fees.
Bitcoin Sportsbooks
You can deposit and withdraw using Bitcoin.
Bitcoin is much slower and processes an average of 5 transactions per second.
You can claim many sports betting bonuses using Bitcoin.
There are many Bitcoin betting sites out there.
Bitcoin fees are low but higher than Solana.
Frequently Asked Questions
Is it easy to use Solana at bookmakers?
Yes, it is. If a betting site accepts Solana, you can deposit and withdraw instantly and effortlessly. All you need to do is copy sending and receiving addresses and wait for your funds to get to their destination.
How long do Solana withdrawals take?
Solana withdrawals are instant. They are among the fastest for cryptocurrency payouts.
Are Solana betting sites safe for betting?
Yes. The top Solana betting sites we feature are safe and secure.
Are there any hidden Solana fees?
There are no hidden fees to using Solana at online sportsbooks. All Solana costs are public and easy to see. The average Solana transaction fee is $0.00025.
Can I get bonuses if I deposit with Solana at bookmakers?
Yes, you can. You can trigger a fantastic range of bonuses and promos with your Solana deposits.