Betpack »
Best Betting Sites in Slovenia
Best Betting Sites in Slovenia
Online betting is legal in Slovenia. However, to experience wagering on sports in all its glory, you must play at the best betting sites in Slovenia we feature. There is only one bookie the Slovenian government licenses and it's a state-backed bookmaker, but international online bookmakers are the first choice with Slovenian players. Keep reading to see why that's the case and find out how to start betting online in Slovenia. Let's start!

Ad Disclosure: Betpack is an affiliate website. We may earn comission if you register to a bookmaker via links on our platform. Learn more information and please gamble responsibly.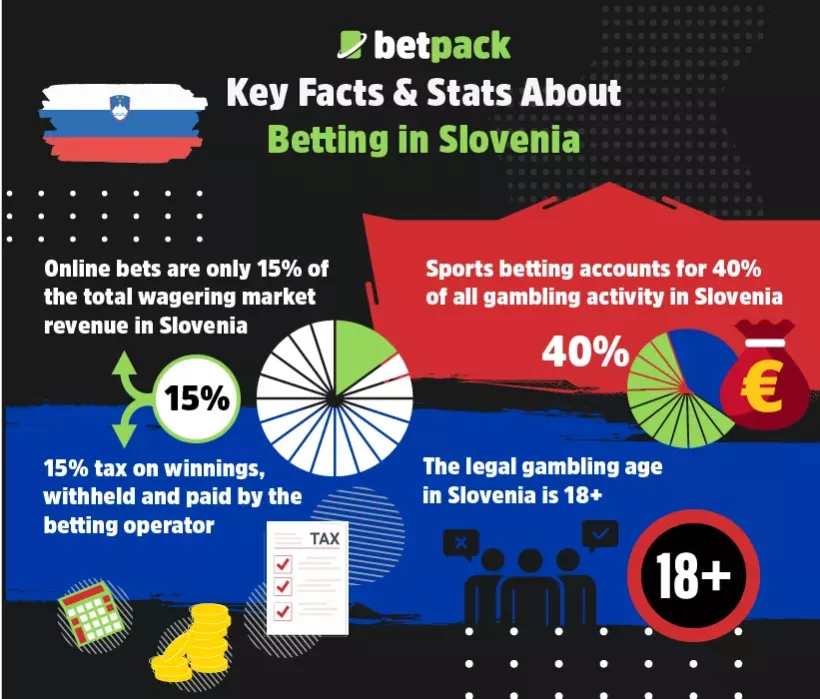 How to Pick the Best Slovenian Bookmaker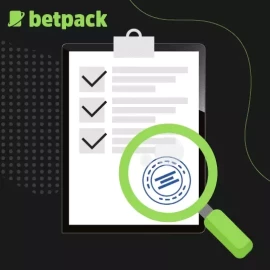 Step 1
Verify the License
Checking the licence of online betting sites in Slovenia is one of the most important things you should do. Only licenced bookmakers are legitimate businesses. If the concession is from a reputable regulator, the bookie is probably a top sportsbook too.
Step 2
Check Payment Methods
Slovenian betting sites work with some of the most popular payment methods with bettors. However, you have to verify that yourself. Before opening a betting account, always check that the Slovenian bookmaker works with the banking options you know and love.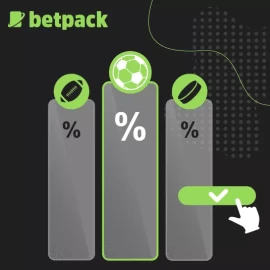 Step 3
Inspect Betting Markets
Your Slovenia betting experience is only as good as the sports betting markets you pick. And you cannot go for a sports betting market if the bookmaker does not offer it. So, it is paramount that your bookie has all the betting options you need and then some.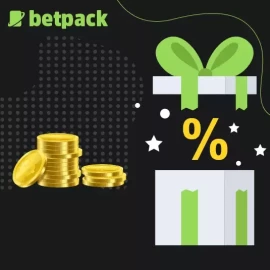 Step 4
Study Bonuses
You can make your online sports betting twice as exciting by triggering an enticing bonus or two. That's why it is crucial you go with generous Slovenia betting sites that have a lucrative welcome bonus, tons of free bets, and a fantastic range of other promos.
Free Bets & Betting Offers in Slovenia
| Bookmaker | Offer |
| --- | --- |
| GreatWin | 100% up to €100 |
| PlanetaXbet | 100% up to €500 |
| Jeetcity | 50% up to €400 |
| FreshBet | 100% up to £500 |
| Sportsbet.io | 10% Cashback |
Bookmaker
GreatWin
Offer
100% up to €100
Bookmaker
PlanetaXbet
Offer
100% up to €500
Bookmaker
Jeetcity
Offer
50% up to €400
Bookmaker
FreshBet
Offer
100% up to £500
Bookmaker
Sportsbet.io
Offer
10% Cashback
How We Compare and Rank Betting Sites in Slovenia
You can find the best betting sites in Slovenia instantly at BetPack. We screen the entire Slovenian betting scene and know what punters need. So, we spend time and resources to find the bookies that bettors in Slovenia crave and deserve. Read on to learn more about the factors we focused on when compiling our list of the top bookmakers in Slovenia.
BetPack bettors deserve to play at betting sites that are legitimate operators. And the best way to determine that is to look at the betting license. At BetPack, we only rate bookmakers with licences from respected sports betting regulators and discard fraudulent sportsbook imposters.
At BetPack, we have a welcome offer assessment process that is a litmus test for the overall quality of sportsbooks. Basically, the sign-up offer must be lucrative enough and easy to claim, too. That way, you get a good bonus and can benefit from it.
Sports betting in Slovenia is all about getting an edge over the bookie. And one of the most effective ways to do that is to pick an online betting site with tons of promos and free bets. At BetPack, we make sure we give you those altruistic sportsbooks.
When analysing sports betting sites in Slovenia, we spend the most time examining their sports betting offers. We go through everything from the number of sports to the pre-match and live betting options available. If a bookie has what we deem acceptable, we list it.
There are no bookies that work without a profit. However, we find the Slovenian betting sites that work with the smallest margins and have great odds. To do this, we compare house edges across all sports and markets. The sportsbooks with the highest odds get top marks.
We test payment options at all Slovenian betting sites. The top Slovenian bookies we feature have a wide range of payment methods that you can use to make both deposits and withdrawals. They also have player-friendly limits and lightning-fast processing times.
Before listing a betting site, we always check if it has live streaming, whether it offers bet builders, and if it gives you cash-out options. The more features an online gambling site boasts, the higher we rank it at BetPack.
Top Slovenian Betting Sites by Category
| Category | Bookmaker |
| --- | --- |
| Best Welcome Bonus | FreshBet |
| Best Odds | GreatWin |
| Best Betting Markets | sportsbet.io |
| Best Features | LeoVegas |
| Best Design & Usability | MyStake |
Category
Best Welcome Bonus
Bookmaker
FreshBet
Category
Best Odds
Bookmaker
GreatWin
Category
Best Betting Markets
Bookmaker
sportsbet.io
Category
Best Features
Bookmaker
LeoVegas
Category
Best Design & Usability
Bookmaker
MyStake
Popular Payment Methods for Slovenian Betting Sites
One of the best things about betting in Slovenia is the quality of the payment methods you get. Slovenia is an EU country, so it also has some of the best and most secure payment options available to bettors. Let's look at the banking methods you can use at online betting sites in the country.
E-Wallets
When you join a betting site from Slovenia, you can use some of the most popular e-wallets the online gambling industry works with. These include digital wallets such as Skrill, Neteller, PayPal, and many others.
With e-wallets, you get tons of perks. These include:
Easy registration

Instant deposits

Super-fast same-day withdrawals

Many currencies available

Mobile payment options

There is no expiration date

There are no sensitive pieces of information to enter
However, as good as e-wallets are, there are a couple of things you might not like. One is that you cannot trigger welcome bonuses with them, at least not all of them. That means you always have to check if your e-wallet is accepted for a sign-up offer before depositing. That can be a bit time-consuming.
Another drawback of e-wallets is that they often come with fees that are higher than those for other payment methods. That is especially true if you use Skrill or Neteller, as they both are infamous for the transaction and conversion fees they charge.
Credit/Debit Cards
Credit/debit cards make your online sports betting experience as straightforward as possible. With them, there are no uncertainties or unknowns. You get exactly what you expect. Some of the benefits of using banking cards to bet online in Slovenia include:
Easy to use

You can use them for both deposits and withdrawals

You can activate almost any bonus with a bank card payment
However, one of the drawbacks of using a no-frills payment method is that you miss out on the perks other bettors get. One of those perks is fast withdrawals. Credit/debit card payouts are processed within several days, and that is not the fastest, especially when compared to the e-wallets bettors in Slovenia use.
The fact that you reveal a lot of sensitive banking information is another disadvantage of using credit/debit cards for gambling in the country. Of course, if you take all the necessary precautions, this is never a problem. However, you never know when you will drop your guard and leave that info in the wrong place at the wrong time.
Bank Transfers
Bank transfers are available at all Slovenian bookmakers. Bank wire payments are the go-to option for big-money punters who don't have the time to top up their accounts multiple times. They are alsoal for bettors that want to get large sums of money in one go when withdrawing their payouts.
Bank transfers have some of the highest deposit and payout limits out there. So, they will be great if you want to make a killing with each bet you place and withdraw all your windfall instantly.
However, there are also some drawbacks to betting in Slovenia using bank transfers. The most obvious one is speed or lack of it. Namely, when you withdraw using the bank transfer option, you often have to wait for a full week or more to get your winnings. That's hardlyal, as we are sure you will agree.
Prepaid Cards
Prepaid cards are also an option for bettors in Slovenia. However, unlike other payment systems available in the country, prepaid cards only allow you to deposit. There is no way to withdraw your winnings with prepaid cards, so you need to find yourself an alternative payout method.
Another drawback of using prepaid cards is that you cannot deposit larger sums of money. In fact, prepaid cards limit your deposits so much that you will have to buy several cards to top up your account if you are a high-stakes punter.
However, it is not all negative. One of the perks of online gambling with prepaid cards is that you don't leave any personal or financial information behind. You only need to enter the PIN you get, and you will be good to go.
Cryptocurrencies
When you bet in Slovenia, you can also top up your account and withdraw your winnings using cryptocurrencies. Some of the benefits of using Bitcoin, Litecoin, and Ethereum at Slovenian betting sites include:
Anonymous deposits

Secure transactions

Fast withdrawals

Zero or minimal fees
As you can see, cryptocurrencies give you almost everything you need from an online betting payment method. However, you might have trouble finding them. As established as crypto payments are, not all bookies in Slovenia accept them, unfortunately.
Best Slovenian Betting Sites for Sports
| Sport | Bookmaker |
| --- | --- |
| Best for Football | FreshBet |
| Best for Basketball | GreatWin |
| Best for Handball | LeoVegas |
| Best for Skiing | Sportsbet.io |
| Best Overall for Sports | FreshBet |
Sport
Best for Football
Bookmaker
FreshBet
Sport
Best for Basketball
Bookmaker
GreatWin
Sport
Best for Handball
Bookmaker
LeoVegas
Sport
Best for Skiing
Bookmaker
Sportsbet.io
Sport
Best Overall for Sports
Bookmaker
FreshBet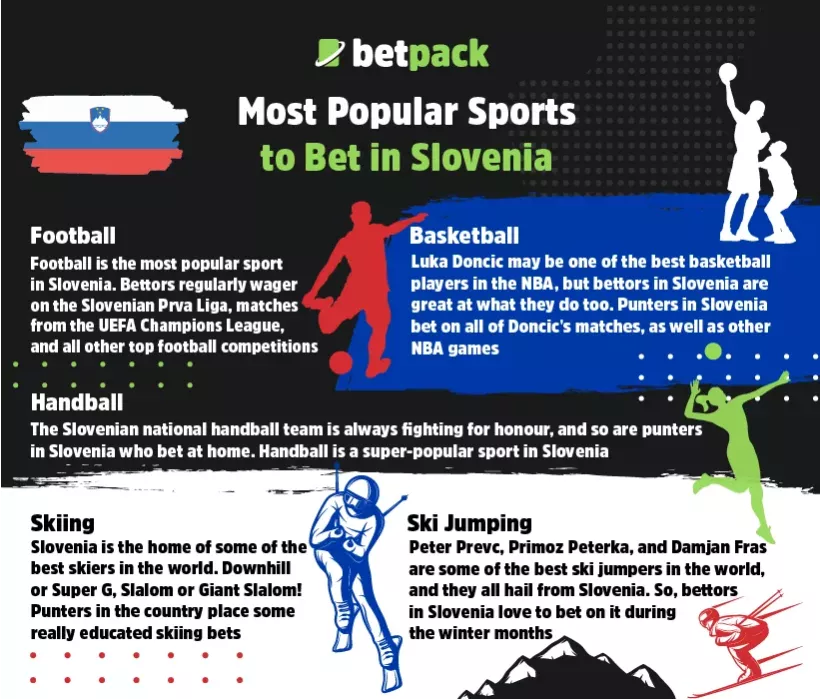 Most Trusted Betting Sites in Slovenia by Betpack
| Rank | Bookmaker |
| --- | --- |
| #1 | GreatWin |
| #2 | PlanetaXbet |
| #3 | Jeetcity |
| #4 | FreshBet |
| #5 | Sportsbet.io |
Rank
#1
Bookmaker
GreatWin
Rank
#2
Bookmaker
PlanetaXbet
Rank
#3
Bookmaker
Jeetcity
Rank
#4
Bookmaker
FreshBet
Rank
#5
Bookmaker
Sportsbet.io
Punters in Slovenia have one thing in common: they all want to focus on their bets and not worry about things such as security or privacy. Unfortunately, that's difficult to achieve when you wager at second-rate bookmakers. And there seem to be more and more of those each day. So, what can you do? How can you find the reliable and trusted betting sites you are looking for?
We have the answer. Go with the bookies we list. At BetPack, we analyse each betting operator and tell you everything you need to know about it. In each of our reviews, we pay special attention to the bookmaker's licence and security levels. We only give top marks to sportsbooks that are licenced by reputable regulators and use top-drawer security technology.
In short, when you want to bet worry-free at home, our top Slovenian betting sites are the bookmakers you want to pick. They are all licenced by renowned sports betting regulators and will never risk losing their licence by defrauding you. Their state-of-the-art encryption protocols will also give you the peace of mind to place the best wagers possible.
Conclusion
Some of the best international betting sites welcome players from Slovenia. However, finding these bookmakers is often a difficult task. Fortunately, we are here to help you. We analyse and examine all sportsbooks in Slovenia and serve the top ones on a silver platter.
The bookmakers we feature at BetPack have a fantastic range of sports, betting markets, and bonuses. They boast odds you won't find anywhere else and work with payment methods that facilitate instant deposits and payouts. They also have innovative features such as live streaming, social betting options, and bet builders. Customer support is also of the highest quality.
Most importantly, though, the sportsbooks for online betting in Slovenia we feature are licenced by reputable regulators and utilise the latest in security technology. They are your safest bet when looking for a legitimate wagering experience in the country, hands down.
So, now you know how to enjoy online betting in Slovenia in all its glory. Have your pick from some of the best betting sites in Slovenia and start betting like a real pro.
Frequently Asked Questions
What Betting Apps Work in Slovenia?
Betting apps that are licenced by the government of Slovenia via the Ministry of Finance will work in the country. However, betting apps from international betting sites will work too. If they don't, using a VPN network instantly solves the problem.
What are the Most Popular Sports to Bet on in Slovenia?
Football is the most popular sport in Slovenia. However, sports such as handball, basketball, skiing, volleyball, and cycling are popular too.
How Do You Claim a Free Bet from a Slovenian Bookmaker?
If you want to claim a free bet, you first need to join one of the online sports betting sites we feature at BetPack. As soon as you register with the site, activate the free bet and make your first deposit. Also, read the terms and conditions and place a qualifying bet. When that wager settles, you will get your free bet.
Do Slovenian Bookmakers Have Good Odds?
Yes, but not all of them. To find Slovenian bookmakers with the best odds, read our BetPack reviews. We tell you how good the odds of each bookie are and whether they are lower or higher than those of their industry rivals.
Is Sports Betting Legal in Slovenia?
Yes, it is. Sports betting is legal in Slovenia. However, to get the best sports betting experience, you will probably need to wager at international betting sites. The state-backed betting site has a monopoly in the country, meaning its sports offering may not be the best one out there.