Ad Disclosure:
Betpack is an affiliate website. We may earn commission if you register to a bookmaker via links on our platform. Learn
more information
and please gamble responsibly
The only way to enjoy betting on the Spanish league is to join legitimate betting sites. The best odds and La Liga betting markets will mean little if the bookie disappears or refuses to give you your payouts.

That's why before we even start analyzing online bookmakers, we check if they have licenses. Sports betting concessions issued from reputable regulators and wagering authorities guarantee that the bookie is legit. So, the sportsbooks we feature must have them.
Another crucial element we analyze at this stage is security. All La Liga bookmakers listed at BetPack must go big and invest heavily in security. We want betting providers that utilize state-of-the-art encryption technology and vouch for the safety of your personal and financial data.
We are yet to meet a punter who would say no to an enticing welcome bonus. Most bookies have one, but some don't. Those are the ones we eliminate first. We then focus on La Liga betting sites with welcome promos and try to find the sportsbooks with the best first deposit bonus offers.

If we tell you that a Spanish league bookie has a quality welcome offer, that means two things. First, it tells you that the offer will be worth your time and money, and you will benefit from the bonus credits or new customer free bets. It also means that the promo is easy to claim. In other words, you won't have to move mountains to profit from the welcome offer.
It is this combination of lucrative bonuses that are also easy to obtain that makes BetPack readers keep coming back to our site to find the best La Liga betting offers. For our part, we do everything we can to continue helping our La Liga bettors find these exciting betting opportunities and get the rewards they deserve.
A top-quality La Liga betting site will continue to send promos and free bets your way even after it has turned you into a regular. After all, if a betting site doesn't double the odds or match your deposits from time to time, there's no guarantee you will continue playing there.

It goes without saying that we want to have those generous La Liga betting sites at BetPack too. Before listing a Spanish football bookie, we make sure it offers a wide range of free bets, cashback promos, enhanced odds promos, and reload deposit bonus offers. Playing at the bookie you love is great, but betting on La Liga matches is even better when you benefit from lucrative bonuses and promos.
We make no compromises when analyzing odds and betting markets. We want you to get the best La Liga odds right from your first sports bet, and pull no punches to locate the bookies that offer them. A wide range of football betting markets is a must too.

That means we go the extra mile to find Spanish football betting sites that work with the smallest house edges, resulting in super-competitive odds.
But competitive odds will be of little use if you don't have all the betting markets you need. So, we ask our experts to pay special attention to the number and quality of bet types too.
If a bookie ranks in our Top 5, you can be sure that it has hundreds of betting markets for even the dullest La Liga and Segunda matches.
The top bookies we list work with dozens of payment methods. Before featuring a La Liga betting site, we check if it supports payments made with debit cards, e-wallets, prepaid cards, bank transfers, and any other payment method punters frequently use.

A wide selection of banking options achieves several objectives. First, it allows you to play with the payment method you are used to using. It also helps you get all bonuses. Some payment methods are excluded from bonus offers. However, if you have other banking systems available, you can always use an alternative payment method to claim a promo. Lastly, when there's a myriad of banking options, you can find the one with the payment speeds and limits you want.
The more features a La Liga bookie boasts, the higher it ranks with BetPack. We want punters to benefit from things like live streaming, bet builder options, and mobile betting perks.

We also look favourably on sports betting sites that have specialized La Liga blogs, give you the latest Spanish football news, provide you with La Liga betting tips, allow you to copy bets from celebrity punters, and offer other perks too.
Innovation and exciting betting features are the two things that separate the top bookies from also-ran sportsbooks. You already know which type of La Liga bookmakers we feature at BetPack.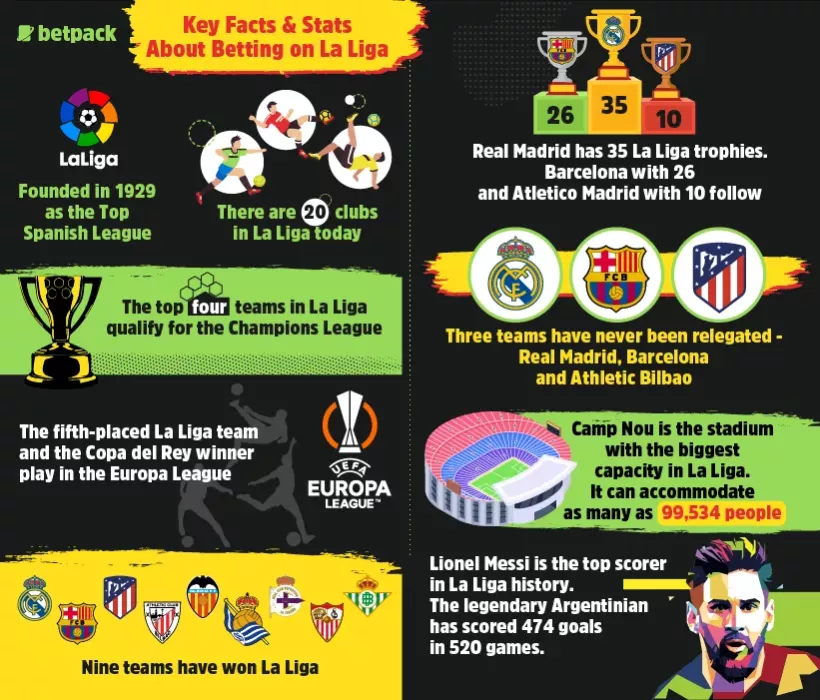 Online Betting vs. Brick & Mortar Betting on La Liga
You can bet on La Liga both at online betting sites and brick-and-mortar betting shops. And while we often say that each form of betting has its perks and drawbacks, for online vs retail betting, the situation is different. Online betting sites outperform retail betting shops in almost every segment of La Liga betting. Here's a side-by-side comparison of the two to illustrate what we mean.


Online Betting
You often get more La Liga betting markets when wagering online
You get enticing welcome offers when you join online betting sites
Online bookies can track your progress and give you loyalty program rewards such as cashback or free bet credits
You have tons of live betting options and can watch live streams of games too
You can place pre-match and live La Liga bets whenever your heart desires
Very easy to hedge 2-way La Liga bets by betting on the opposite outcome in play at any time and from anywhere
Brick & Mortar Betting
Brick-and-mortar betting shops are always a step or two behind La Liga betting sites and the markets they offer
Very few retail betting shops will give you welcome offers
It is difficult for brick & mortar betting shops to reward your loyalty as they have limited tools for tracking your progress
Most retail betting shops have in-play betting but live La Liga broadcasts are limited to the TV sets inside the shop
You have to be physically present in the betting shop to place your bets
Almost impossible to engage in back and lay betting to hedge your bets unless you are right there in the shop
Best La Liga Bookmakers by Betting Markets
| Best for... | Bookmaker |
| --- | --- |
| Best for Outright Bets | Sportsbet.io |
| Best for Goals Markets | MyStake |
| Best for 1x2 Markets | FreshBet |
| Best for Goalscorer Markets | William Hill |
| Best for Draw No Bet Markets | LVBet |
The 'Match Winner' market is the most straightforward of all La Liga bets and yet the most popular one with punters. As the name implies, in this La Liga betting market, you predict which team will triumph at the end of the game (Home/Away) or if the match will end in a draw.
When you bet Over/Under on the number of goals scored in a La Liga match, you predict whether the number of goals in a given game will be higher or lower than the threshold the bookie set. For instance, if you bet Over 3.5 goals, you predict that the game will produce four or more goals.
With handicap bets, La Liga bookmakers level the playing field by giving the weaker team an advantage and by handicapping the favourite. For instance, if you are backing Real Madrid (-1.5) to win against Cadiz (+1.5), you say that the Los Blancos will win by at least a two-goal margin.
The Most Trusted La Liga Bookmakers by Betpack
| Rank | Bookmakers |
| --- | --- |
| #1 | FreshBet |
| #2 | Sportsbet.io |
| #3 | MyStake |
| #4 | LVBet |
| #5 | Slotimo |
Dos and Donts of Betting on La Liga
You can have a profitable La Liga betting adventure when you join the best Spanish league bookmakers. However, to make the most of each bet, you might want to look at our list of La Liga betting Dos and Donts.


Pros
Analyze form and head-to-head matches
Read the latest La Liga news and keep tabs on injuries and suspensions
Bet on games you watch and make the most of La Liga live betting options
Place bet stake amounts that don't exceed your budget
Hedge your bets or get an early cashout to minimize your risk
Cons
Don't always back the favourite in local derby matches (e.g. Seville or Madrid derby)
Don't bet on teams that play important UEFA Champions League games in midweek
Avoid dead rubber games at the end of the La Liga season
Only back teams that are down on their luck occasionally
Don't chase losing bets even if you are sure the next one will win
Best Tips for La Liga Betting for the 2022 Season
| Tip | Explanation |
| --- | --- |
| Sevilla - Draw | Sevilla was the team with the most draws in La Liga in the 2021/22 season. Despite changing managers and changes in playing personnel, Los Nervionenses are struggling to change that pattern this season. They are too good to lose, but not good enough to win. |
| Athletic Bilbao - Over 2.5 | Unlike previous seasons, when goals were in short supply for the team from San Mames, this season Athletic Bilbao are scoring goals for fun. They are conceding them too. As a result, Los Rojiblancos are an excellent option for Over 2.5 bets. Because of their reputation as a low-scoring team, they also come with really good Over odds. |
| Elche - Elche to Score (No) | Elche's record in La Liga this season is abysmal. They cannot get a win to save their lives and get the jitters when in front of the goal. Backing them not to score in their games is a very sensible bet. |
| Almeria - Double Chance (Home/Away) | This season Almeria is either going all in and winning games or throwing in the towel and giving up. There's no middle ground for the Indálicos. Therefore, backing them to either win or lose their games is a decent wager. |
| Real Madrid - Win | Regardless of their opponents, Carlo Ancelotti's men have been going from strength to strength this season. Backing them to win any match they take part in or win La Liga both make sense. |
La Liga
Underdogs to Bet On in the 2022 Season
| Bet | Explanation |
| --- | --- |
| Real Betis to Play in Europe Next Season | Manuel Pellegrini's team has been the surprise package of the 2022/23 season so far. Betis has a decent squad, and if everyone remains fit, they can challenge for a UEFA Champions League spot, for sure. |
| Osasuna to Play in Europe Next Season | Osasuna has been performing above all expectations and has already defeated the likes of Sevilla and Rayo Vallecano, and drawn with champions Real Madrid. Can they top La Liga? Of course not. But can they play in Europe next season? It just might happen. |
| Atletico Madrid to Win La Liga | Atletico Madrid as La Liga winner doesn't seem as outrageous as it initially seems. Diego Simeone has the players to challenge for glory, and some of them have already shown they can lift the La Liga title. Can they do it again? If everything goes their way, it could happen. |
| Real Sociedad to Win La Liga | Real Sociedad is the definition of an underdog team. Sociedad play some wonderful football and started this season as they normally do, really strongly. However, their performances tend to take a nosedive in the second part of the season. If they can stop that, they might be the La Liga underdog bet you need. |
| Valladolid to Play in Europe Next Season | Perennial relegation candidates Valladolid are playing the season of their lives. They are only a couple of wins from getting in the mix for European qualification too. If you fancy a long-shot bet, backing Valladolid to play in Europe next season might be right up your alley. |
Frequently Asked Questions
What to Look For in a Betting Site for La Liga?
First, make sure the La Liga betting site has a license from a reputable regulator. Then check that it uses the latest encryption and security protocols. Lastly, see if it has the La Liga betting markets and the competitive odds you need.
Is Betting on La Liga Online Legal?
Yes, it is. If you place your bets with a licensed online bookie, you can wager on La Liga worry-free.
Can I Bet on Other Sports and Leagues on the Same Site?
Of course, you can. When you join a top betting site, you can bet on a wide range of sports, from football and basketball to darts and snooker. You can also wager on a fantastic selection of leagues and place bets on La Liga, Segunda Division, the English Premier League, Serie A, the Champions League, Copa del Rey, etc.
Can I Join Multiple Betting Sites for La Liga?
You sure can. By joining more than one site, you can compare La Liga odds and place your bets at the betting site that gives you the most competitive prices. Also, when you join multiple La Liga betting sites, you can profit from the welcome bonuses they give you upon joining and making your first deposit.
What are the Most Popular Bet Types for La Liga Betting?
There are tons of La Liga bet types, but the most popular bet is still which team will win the match. That said, many punters opt to bet on the total number of goals, handicap markets, correct scores, odd/even goals, etc. Outright betting options, such as which team will win La Liga, are super-popular too.
Is There Live Betting on La Liga?
Yes, the best La Liga betting sites have fantastic live betting sections where you can place any in-play bet you can think of. When betting in-play, you can wager on the winner of the game, the total number of goals, goals scored per team, next to score, etc.