Looking for a payment method that lets you make deposits and withdrawals directly from your bank account? Check out InstaDebit betting sites! When you use InstaDebit at online bookmakers, you don't share any financial information and deposit by only entering your email. That means the payment option is safe and fast. InstaDebit will also trigger most bookmaker bonuses and has minimal fees. Keep reading to learn more about betting sites that accept InstaDebit.
Pros
One payment method for both deposits and withdrawals.
Sophisticated security protocols.
InstaDebit is not excluded from bonuses.
You don't share any banking details when depositing.
Cons
Only available to Canadian players.
Bank account deposit and withdrawal fees.
Only two currencies are available - USD and CAD.
You can only link one bank account with InstaDebit.
Ad Disclosure:
Betpack is an affiliate website. We may earn commission if you register to a bookmaker via links on our platform. Learn
more information
and please gamble responsibly
Best Betting Sites That Accept InstaDebit 2023
Deposits, Withdrawal Limits and Speed
When reviewing InstaDebit sportsbooks, the limits and speeds of transferring money are the first things we check. Betting sites that accept InstaDebit must give you flexible deposit and withdrawal limits. Moreover, deposits must be instant and withdrawals should be completed within a few days at most.
Eligibility for the Bonuses
The great thing about bookies that accept InstaDebit is that they allow you to trigger most, if not all, sportsbook bonuses. InstaDebit is rarely an excluded payment method when it comes to activating bonuses. That's why we require all InstaDebit online betting sites to give you bonuses on your eligible InstaDebit deposits. If not, we don't shortlist them.
InstaDebit does not charge fees when you withdraw your sportsbook winnings to your InstaDebit account or deposit from that account. However, it does charge minimal fees when you transfer money to and from your bank account. So, it is paramount that the betting apps that accept InstaDebit don't pile up additional costs to Betpack readers. We make sure that is the case.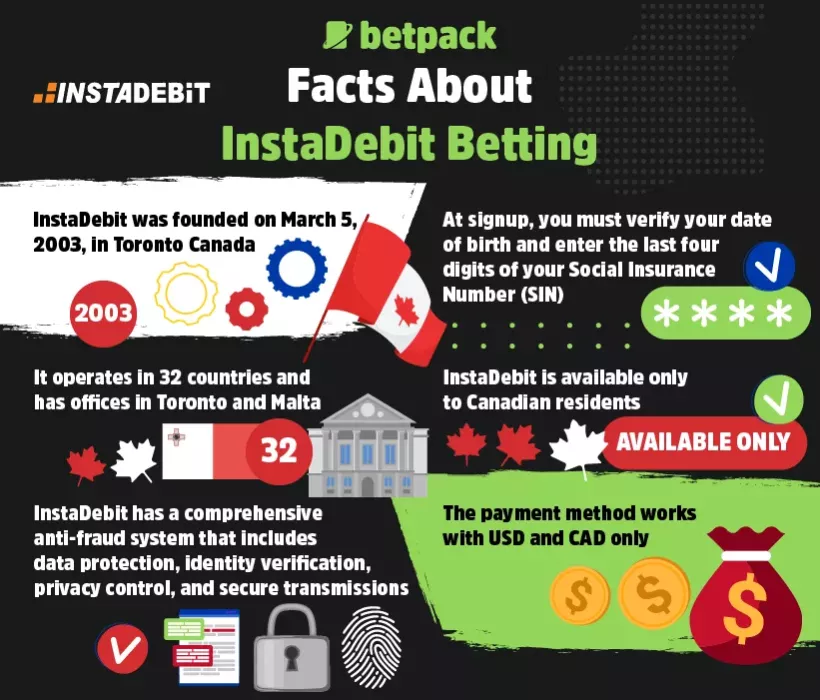 How to Register at InstaDebit Betting Sites
Signing up with betting sites that accept InstaDebit is straightforward, and even beginner bettors can do it almost effort-free. Betpack makes the whole process even easier. Read our four-step InstaDebit betting guide, and register with the top InstaDebit betting websites in minutes.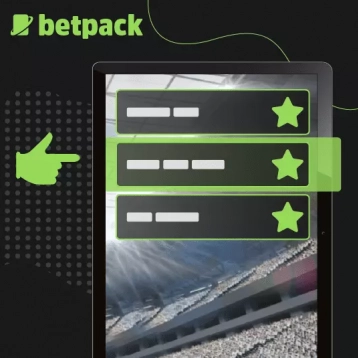 Step 1
Licenced
Don't open an online betting account with any InstaDebit bookie. Pick online sportsbooks that are licensed and regulated by reputable betting industry authorities. They are the only ones that can give you a worry-free betting experience.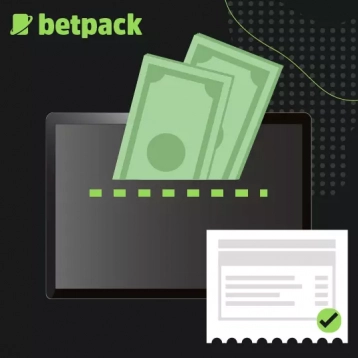 Step 2
Analyse Security Levels
InstaDebit online payments are super-secure. So, make sure to find InstaDebit betting sites that are as secure as the payment processor. That way, you will have the peace of mind to focus on your wagers and nothing more.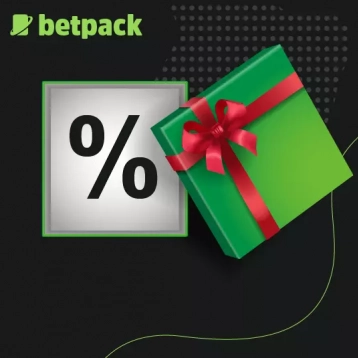 Step 3
Browse Markets and Odds
Online sports bettors focus on betting markets and odds for good reason. They are crucial for the quality of your betting experience. So, read our Betpack reviews and shortlist the betting sites with the best markets and odds.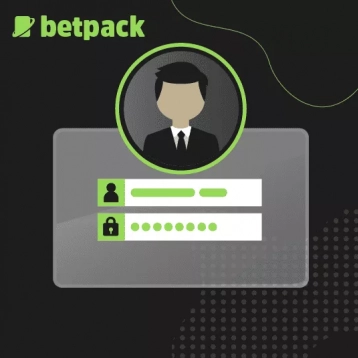 Step 4
Sign Up with the Best InstaDebit Bookie
You can now open a sports betting account with the InstaDebit bookie that ticks all the boxes. If it gives you even more for your money, like enticing bonuses, then don't think twice and join it instantly by the link we provide.
InstaDebit vs Neteller Sportsbooks
Online bettors often mistake InstaDebit for an e-wallet. But it isn't. Even though it shares some similarities with digital wallets, InstaDebit is not one. But let's compare it to an e-wallet, which is often said to be a bettor-favourite, and see how it measures up. Let's look at a side-by-side comparison of InstaDebit sportsbooks and Neteller betting sites, and see which ones work better for you.
InstaDebit Sportsbooks
InstaDebit facilitates instant deposits.
You can use InstaDebit to withdraw winnings.
InstaDebit withdrawals are completed within 5 days.
You cannot use your InstaDebit account to store funds.
InstaDebit allows you to trigger almost any bonus or free bet.
You don't share any information when depositing with InstaDebit.
Neteller Sportsbooks
Neteller deposits will get to your sports betting account instantly.
You can use Neteller to withdraw funds from online betting sites.
Neteller payouts are processed in 1-2 days.
You can keep funds in your Neteller account.
Neteller is excluded from many welcome bonuses.
You can deposit and withdraw with Neteller by only entering your email.
Frequently Asked Questions
Is it easy to use InstaDebit at bookmakers?
Yes, it is. You can deposit and ask for withdrawals instantly. Even if you don't have an InstaDebit account, you can open one during your first InstaDebit deposit. That encapsulates how straightforward InstaDebit betting sites are.
How long do InstaDebit withdrawals take?
InstaDebit withdrawals take between 1 and 5 days. However, please note that the processing of your withdrawal request by the bookie should also be taken into account.
Is InstaDebit safe for betting?
Yes, it is. InstaDebit is one of the safest banking options to be used at online betting sites. It protects your data, verifies identity, gives you control over your privacy, and facilitates secure transfers.
Are there any hidden InstaDebit fees?
There are no hidden or extra fees to using InstaDebit. The only costs you incur are when you deposit to online sportsbooks from your bank account (CAD 1.95) and when you withdraw funds from your InstaDebit account to your bank account (CAD 2.00). Both are listed on the InstaDebit website.
Can I get bonuses if I deposit with InstaDebit at bookmakers?
You sure can. InstaDebit is a convenient method for triggering bonuses as it allows you to claim both first deposit promos and existing customer bonuses, such as free bets and reload deposit bonuses.